The classic Moʻoheau Bandstand in Hilo (above), where U.S, Rep, Tulsi Gabbard campaigned during a past election season.
See below for her message on voting.   Photo by Julia Neal
KAʻŪ BOOSTERS LAURENCE J. CAPELLAS AND ROBERT HERKES are being honored with the placing of Capellas' name on the Pahala Ballfield, and Herkes' name on the Kaʻū District Gym & Shelter. The recognition was established by Bill 251, passed by the County Council yesterday. Many Kaʻū High School alumni lobbied the county and state to recognize the two citizens who did much to support athletics, education and good health in Kaʻū.
     Capellas, who served as a coach and principal at Kaʻū High, was famouse for starting up the football program, organizing the building of the Pahala swimming pool and inspiring students to seek higher education.
Rep. Robert Herkes and Laurence Capellas are honored with their
 names chosen for the new Ka`u District Gym & Shelter
 and Pahala Ballpark. Photo by Ron Johnson
     The late Bob Herkes was a member of the state House of Representatives, representing Kaʻū. He fought for the funding to build the new gym as a regional disaster shelter. He helped save the Pahala Library and assisted in securing mobile medical services for the region, including a medical van and staff that provided free physicals for athletes.
     A statement this morning from Kaʻū High alumni leaders who lobbied to honor Capellas said, "For us, it was long time coming and we are very satisfied. Mr. Capellas finally receives a special place of honor in Kaʻū. He made a huge impact in our community and left a legacy for generations to come. The Pahala Ballfield with his name and the display case at the entrance of the district gym containing his portrait, list of Kaʻū accomplishments and a County proclamation citing his outstanding public service record will serve as a reminder of his contributions to the people of Hawaiʻi."
To read comments, add your own, and like this story, see 
Facebook
. Follow us on 
Instagram
 and 
Twitter
.
URGING EVERYONE TO VOTE, KAʻŪ'S REPRESENTATIVE IN THE U.S. CONGRESS sent out a message yesterday. Rep. Tulsi Gabbard, a progressive Democrat, wrote: "We are all connected in an incredible chain of cause and effect in this great web of life. Our votes as progressives in this election can affect the lives of millions of people in this country.
     "If we fail to turnout and vote on Tuesday, it will mean virtually no progress on many of the issues we care about–like reining in greed on Wall Street, breaking up the big banks, advancing common-sense gun safety reforms, protecting our environment from disastrous and unsafe pipelines, and stopping bad trade deals like the Trans-Pacific Partnership."
     She acknowledged that, "This has been a bitter and contentious election across this country–there's no sense in denying that. But we must choose to focus on what we believe in as progressives, not what we oppose or are offended by. We must stand up for our values. That means a vision of this country where the ultra rich can't game our political and economic systems for their own benefit.
Mo`oheau Bandstand has been the election eve Grand Rally site for more than
 60 years. On Monday, the rally moves to Auntie Sally's Lu`au Hale.
Photo by Julia Neal
     "It means protecting our civil liberties and reining in the NSA's mass collection of Americans' data. An agenda that advances criminal justice reform to end needless mass incarceration, raising the minimum wage so working people don't have to decide between putting food on the table or paying their rent, and fighting so that our friends in the LGBT community have the same rights and freedoms to live as the rest of us.
     "It's about net neutrality, equal pay for equal work, protecting our environment, and ending the counterproductive, regime-change war in Syria which has caused tremendous suffering, devastation, and which has strengthened groups like al-Qaeda and ISIS.
     "There is not one part of our agenda that can become a reality if we fail to vote on Tuesday. So I urge you: no regrets–that's what we should wake up on November 9th and say, both individually, and as a movement of progressives," the Congresswoman concluded.
To read comments, add your own, and like this story, see 
Facebook
. Follow us on 
Instagram
 and 
Twitter
.
THE GRAND RALLY FOR THE DEMOCRATIC PARTY has been changed from Mo'oheau Bandstand on the Hilo waterfront to Auntie Sally's Luʻau Hale at 7 p.m. on Monday, Nov. 6. Moving from the Bandstand breaks a more-than 60-year tradition of candidates in the Democratic Party from all over the state hosting their election eve rally there.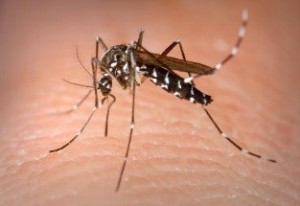 Aedes aegypti is one of two mosquitoes that
can transmit dengue fever and Zika.
Photo from state Department of Health
ENCOURAGING DISPOSAL OF TIRES, which collect standing water where mosquitoes breed, is one tactic taken by the
Fight the Bite
campaign, which is off to a head start this Fall to protect residents against dengue fever, and the possibility of the introduction of Zika fever onto the island.
     This year's wet season probabilities favor near to above average rainfall through next Spring, the National Oceanic Atmospheric Administration recently reported. The county Civil Defense announced Wednesday that, "Because rainwater can collect in spare tires and create mosquito breeding environments, the County of Hawaiʻi is encouraging tire clean up in our communities."
     In Kaʻū, the county Department of Environmental Management has decided to accept tires through November at Wai'ōhinu Transfer Station, open from 6 a.m. to 6 p.m. daily, and other full-service transfer stations around the island that are open seven days a week. Hawaiʻi Island households may bring in up to four passenger vehicle, motorcycle or ATV tires per vehicle per day. Tires should be empty of any liquids, dirt or any other foreign material before bringing them in for disposal.
Tires are standing-water breeding containers for mosquitoes. The
county is accepting them at no charge at Wai`ohinu Transfer
 Station through November.
     Tires are breeding containers for mosquitoes. The county is accepting them at no charge in Waiʻohinu through November.
     Anyone bringing in tires should locate the Solid Waste Facility Attendant wearing a fluorescent safety vest. The attendant will provide guidance for properly placing the tires.
    Tires dropped off before or after normal operating hours will be considered illegal dumping. Tires from businesses, commercial haulers, non-profits or farms; including industrial tires for such large machines as backhoes, tractors and forklift are not accepted. Businesses, commercial haulers, non-profits or farms can contact 
Hawai'i County Civil Defense
 program is in addition to mosquito control efforts by the recently-staffed County Vector Control team that sprays and conducts surveys at county facilities.
     For directions to locations accepting tires, see 
Map and Directions to County of Hawaii Solid Waste Facilities
The Fight the Bite Temporary Residential Tire Amnesty Collection Program may be extended if conditions warrant. For more information on ways to Fight the Bite, see the state Department of Health information website: 
fightthebitehawaii.com
To read comments, add your own, and like this story, see 
Facebook
. Follow us on 
Instagram
 and 
Twitter
.
BANNING SUNSCREENS WITH REEF-BLEACHING CHEMICALS and educating the public about them is the aim of a County Council resolution that passed Wednesday and goes up to the 2017 Hawaiʻi Legislature to support a proposed law.
     Kaʻū's concilwoman Maile David voted for Resolution 672, which supports the efforts of state Sen. Will Espero of Oʻahu to ban the sunscreen chemicals oxybenzone and octinoxate. The two chemicals are named in numerous scientific papers, linking them to bleaching and death of coral reefs, along with global warming of the oceans. The sunscreen chemicals wash off into the ocean from the bodies of people According to research by National Oceanic Atmospheric Administration (NOAA) scientists, the chemicals are also found in some fragrances, soaps and cosmetics. In some places around the planet they are dumped, along with other sewage, directly into the ocean.  
Sunscreen ingredients are believed to be one of the causes of
coral bleaching and coral death. Photo from NOAA
     C.A. Downs, lead author of the NOAA study, suggests a range of options to reduce impact on reefs: "…from working with manufacturers and innovating more environmentally sustainable products to educating consumers regarding product selection and product disposal."
West Hawaiʻi Today
 newspaper reported this morning that Espero, the author of the Hawaiʻi legislation, said banning the chemicals in the sunscreens "will automatically provide a huge reduction in use in Hawaiʻi. This will help the coral and other marine life."
     Reporter Nancy Cook Lauer wrote that "Kohala Councilwoman Margaret Wille, sponsor of the resolution, noted that more than 50 percent of coral off the West Hawaiʻi coastline had bleached and possibly died this summer. While the warming ocean was likely the cause, oxybenzone has been shown to cause coral to bleach at lower temperatures."
     Council members Dennis Fresh Onishi and Greggor IIagan were hesitant to support the measure. Cook Lauer reported that Onishi "pointed to the problem of urine in the water when swimmers let loose." She also quoted IIagan: "There's a lot of things happening in our oceans just because we exist as humans." Read more at
westhawaiitoday.com.
EARLY VOTING, EVEN FOR THOSE STILL NOT REGISTERED, continues in Ka'ū until Friday, Nov. 4 at Pāhala Community Center. Hours through Friday from 9 a.m. to noon and 1 p.m. to 3 p.m.
      Ka'ū and Volcano residents can also register and vote the same day at Aupuni Center Conference Room in Hilo, Monday - Saturday, 8 a.m. to 4 p.m. through Nov. 5; West Hawai'i Civic Center Community Room, Monday - Saturday, 8 a.m. to 4 p.m. through Nov. 5 and Waimea Community Center, Monday-Friday, 8 a.m. to 4 p.m. and Saturday, 8 a.m. to noon, through Nov. 5.
     Election Day voting locations on Tusday, Nov. 8  are from 7 a.m. to 6 p.m.: Cooper Center in Volcano at 19-4030 Wright Rd; Ka'ū High School Cafeteria at 96-3150 Pikake St. - turn into the school grounds; Nā'ālehu Elementary School Cafeteria at 95-5545 Hwy 11; Ocean View Community Center at 92-5545 Mamalahoa Hwy; and Miloli'i Halāu.
     See the sample ballot here: