Cutting back trees that fall on power lines is one expense listed in HELCO's new rate hike proposal. Above, power
was knocked out when Hurricane Iselle hit Wood Valley in 2014. Photo by Anne Celeste
HELCO's  6.5 to 12.5 PERCENT RATE HIKE PROPOSAL IS OPEN FOR COMMENT. Hawai'i county residents may see a hike in Hawai
ʻ
i Electric Light Company electric bills by as early as summer 2017.
      The public can offer testimony at two Public Utilities Commission hearings.
The first hearing will be on Tuesday, Dec. 13 at 5:30 p.m. at Hilo High School Cafeteria on Waiʻanuenue Ave. in Hilo.
The second hearing will be on Wednesday, Dec. 14 at Hawai
ʻ
i County Council Chambers in West Hawai
ʻ
i Civic Center on Keohokalole Highway in Kailua-Kona.
Both meetings are expected to be well-attended.
     HELCO's 8,000-page rate case application to the PUC comes in 18 volumes, or on 991 megabytes.
It is supported by 26 witnesses, who are offering over 400 exhibits. This is the third HELCO rate case since 2009.
    HELCO is asking the PUC for two alternative rate hikes – either a 12.5 per cent rate hike if the proposed purchase of a power generating plant is approved by the PUC, or a 6.5 per cent rate hike if the purchase is not approved.
Tawhiri wind power at South Point has helped to make Hawaiʻi Island
less oil dependent. Photo by Ann Bosted
     To attempt to justify the proposed 6.5 percent rate increases, HELCO cites long-term integration of alternative energy sources. The company notes that its alternative energy portfolio has increased renewables from 35 percent in 2010 to 49 percent, to include more hydroelectric, wind (including Tawhiri windmills at South Point), solar and geothermal replacing oil. HELCO also points to increasing energy security by investing in on-the-ground improvements such as spending $14 million to down and trim Albesia trees that fell and knocked out power during tropical storms in recent years. This leads to fewer power outages, HELCO points out. 
     HELCO attempts to justify a 12.5 percent rate increase to include buying a source of energy it is leasing. It seeks both a permanent, and a temporary, rate increase to acquire the naphtha fossil fuel-burning $84.5 million plant in Hamakua. The electric company requires a separate approval for the purchase. In 2015 HELCO signed a purchase agreement for the 60-megawatt Hamakua Energy Partners generating plant from an affiliate of ArcLight Capital Partners LLC of Boston. The PUC must approve the agreement.
     HELCO Pres. Jay Ignacio issued a letter to the public in September saying that electric bills have gone down due to the drop in oil prices. In January of 2015 a bill for a family using 500 kilowatt hours was $189.62. This September it was $161.85. If the 6.5 percent rate hike is approved, the bill would go up
to $171.16, still less than the 2015 bill.
However, if oil prices rise to their former levels, electric bills will rise again.
     The electric company also wants the PUC to approve adding performance incentives and adjustments to the energy cost adjustments rules.
      The state's Consumer Advocate has filed 85 pages of questions on the proposed rate increase in the case docket.
HELCO must answer these questions before the Consumer Advocate can take a position on the case.
     Members of the public can weigh in on one or both scenarios.
Comments can be e-mailed to the PUC using the address,
puc.comments@hawaii.gov
.
The docket number 2015-0170 should be in the subject line.
Written testimony (reference Docket No. 2015-0170) can be sent by postal mail to Public Utilities Commission 465 South King Street #103 Honolulu, HI 96813.
     Organizations, agencies or individuals proposing to intervene or participate in the rate case must make file their motions by Tuesday, Dec. 27.
NUCLEAR POWER PLANTS FOR HAWAIʻI? The "Forbidden Topic" of building nuclear power plants in Hawaiʻi is to be discussed at the Maui Energy Conference, set for March 22-23, according to reporter Duane Shimogawa of Pacific Business News.
 The issue is a topic for a panel on "emerging trends in energy policy — debating the role of nuclear power."
     There is new interest in all sides of whether to build nuclear power plants, Shimogawa reports, as the State of Hawaiʻi seeks the goal of 100 percent clean energy by 2045.
     Generating electricity with nuclear power is forbidden by the Hawaiʻi state constitution: "no nuclear fission power plant shall be constructed or radioactive material disposed of in the state without the prior approval by a two-thirds vote in each house of the Legislature."






    The United States Nuclear Regulatory Commission describes Hawaiʻi as having no nuclear power reactors and no facilities undergoing decommissioning. Its website at
www.nrc.org
says that "Hawaiʻi is not an Agreement State."
     A preview of the panel discussion states: "[Join] us as we discuss what has been the 'forbidden topic' in Hawaiʻi, the appropriate role of nuclear power in reducing carbon emissions, what is allowed under Hawaiʻi law, what is the status of fusion and how are rate structures on the Mainland subsidizing nuclear plants based on carbon reductions."
Next year's statewide energy conference will take up the pros and cons of
nuclear power. Photo from Maui Energy Conference
The Friends of the Natural Energy Laboratory of Hawaiʻi Authority cites reasons beyond state law that have kept nuclear power plants out of Hawaiʻi: the small size of the Islands, the geographic isolation of the state, waste disposal issues and losing self-sufficiency.


Shimogawa added: "Around the world, 30 countries operate 444 reactors to generate electricity with 63 new plants underway in 15 countries, according to the Nuclear Energy Institute. Nuclear energy provides about 11 percent of the world's electricity. However, at least one nation, Germany, plans to phase out its nuclear power plants by 2022 and focus on renewable energy."

For more information on the energy conference called All Things Energy: Pursuing New Opportunities for Electricity and Beyond, go to
www.mauienergyconference.com
. Also see
Pacific Business News
.
Kaʻū Hospital Foundation is raising money
to upgrade its lanai to accommodate people
in wheelchairs and hospital beds.
Photo from Kaʻū Hospital Foundation
KAʻŪ HOSPITAL FOUNDATION is raising funds for its long-term care garden-lanai accessibility project for hospital residents. Ursula D'Angelo, who is managing the project for the Foundation, said that Kaʻū Hospital is long-term residents' "forever home, and many have expressed their desire to regularly enjoy the outdoors again." Currently, the garden-lanai area is not totally accessible to people in wheelchairs and hospital beds. "The Foundation needs $35,000 to complete the garden/lanai project, to provide all long-term care residents with access to the outdoors," she said.
     In November, the foundation raised approximately $11,000, and "we are well on our way to seeing this dream come true. Any contribution would be greatly appreciated and is tax-deductible," said D'Angelo.
 Donate to Kaʻū Hospital Charitable Organization,
PO Box 773, Pahala, Hawaii 96777. Donate through
kau-hospital-foundation-inc.networkforgood.com
 . For more information, email 
Ka'uHCF@gmail.com
 .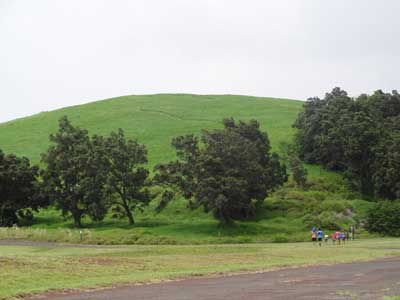 Pu`u O Lokuana hike is this morning at Kahuku Unit of
Hawai`i Volcanoes National Park. Photo from HVNP
PUʻU O LOKUANA HIKE today at 9:30 a.m. at the Kahuku unit of Hawaiʻi Volcanoes National Park, is a short, moderately difficult 0.4-mile walk to the top of the grassy cinder cone. Learn about the formation and various uses of this hill over time and enjoy a breathtaking view of lower Kaʻū. Enter the Kahuku unit of Hawaiʻi Volcanoes National Park on the mauka  side of Highway 11 near mile marker 70.5, and meet near the parking area. Sturdy footwear, water, rain gear, sun protection, and a snack are recommended.
HAM RADIO OPERATOR'S POTLUCK and gathering today at Manuaka Park. Call Dennis Smith 989-3028.
BEGINNING HAWAIIAN LANGUAGE CLASSES are today at 2 p.m. at Na`alehu Community Youth Center, taught by Jeannette Howard, followed by kanikapila with songs of Ka`u. Call Beverly Byouck at 936-7262.
INAUGURATION FOR COUNTY OFFICIALS IS TOMORROW. Monday, Dec. 5 at noon in Hilo. Location is Afook Chinen Civic Auditorium, 323 Manono St.  Kaʻū's County Council member Maile David, Mayor Harry Kim and county Prosecutor Mitch Roth are among those to be sworn in by Judge Ronald Ibarra. Hawai`i County Band and Waiakea High School students will perform.
Na Leo O Hawaiʻi will televise the inauguration live on Channel 55.
HAWAIʻI COUNTY COUNCIL, Monday, Dec. 5, 3 p.m. & Wednesday, Dec. 21, 9 a.m. Ka'ū residents can participate via videoconferencing at Nā'ālehu State Office Building. See 
hawaiicounty.gov
 for agendas and live-streamed and archived meetings.
VOLUNTEER FIRE DEPARTMENT, Monday, Dec. 5, 4 p.m., Ocean View Community Center. 939-7033.
KAʻŪ COFFEE GROWERS monthly meeting is this Tuesday, Dec. 6, from 6-8 p.m., Pāhala Community Center.
AFTER DARK IN THE PARK: Virunga National Park, Tuesday, Dec. 6 at 7 p.m., Kīlauea Visitor Center Auditorium in Hawai'i Volcanoes National Park. Travel writer and Virunga advocate Kimberly Krusel offers a virtual visit to what has been called the most biologically significant park in Africa. The park located in the Congo was created in 1925 as the first national park on the continent of Africa. It was founded primarily to protect mountain gorillas living in the forests of the Virunga Mountains. Today Virunga is a UNESCO-designated World Heritage Site. Free; park entrance fees apply.
VOTING FOR JAMI BECK at 
Facebook.com
  is available to help her win Miss Photogenic in the Miss Teen Hawaiʻi pageant. Voting online ends on Dec. 12. The pageant is in Honolulu on Dec. 17. Beck, a graduate of Kaʻū High School, won the swimsuit competition and tied for first in talent in the 2016 Miss Kaʻū Coffee pageant held at Kaʻū Coffee Mill.
    She is a youth ranger at Hawaiʻi Volcanoes National Park and interested in modeling and acting. She attends college at University of Hawaiʻi-Hilo with a major in administration of justice

KAPA MAKING, Wednesday, Dec. 7, 10 a.m. -12 p.m., Kīlauea Visitor Center lānai in Hawai'i Volcanoes National Park. Joni Mae Makuakāne-Jarrell demonstrates the making of the traditional kapa (paper mulberry bark) cloth used by native Hawaiians for clothing. Free, park entrance fees apply.
NEXT FRIDAY IS ALYSHA & PETE 3-ON-3 BASKETBALL WINTER JAM tournament . It will be held at the new Kaʻū District Gym, Dec. 9-11 with opportunities for adults and youth of all ages. Age groups are ten and under, 12 and under, 14 and under, boys, girls and co-ed. Men and women are also invited to compete. The tournament raises money to help fund Trojan Senior basketball players Pete Dacalio and Alysha Gustafson to travel to the mainland with coach Jen Makuakane to look at colleges who may provide them with sports scholarships. To donate, call Summer Dacalio at 498-7336, Pete Dacalio at 498-3518 or Alysha Gustafson at 339-0858.
Tutu & Me at Pāhala Christmas Parade, next Sunday.
Photo by Julia Neal
PĀHALA'S CHRISTMAS PARADE welcomes community groups, churches, sports teams coffee farmers, classic vehicle drivers and more to travel through the village on Sunday, Dec. 11. The parade, in its 38th year, travels through the streets of Pāhala, with Santa and his helpers handing out candy to kids. A traditional stop is Kaʻū Hospital where long term patients come outdoors to see the decorated trucks cars and floats, marching groups and costumed characters. Participants begin gathering at the old Pāhala Armory at noon and the parade starts at 1 p.m. The parade ends at the Catholic Church on Pikake Street for refreshments. Organizer for almost four decades is Eddie Andrade. For more information, call Andrade at 928-0808.
DEADLINE FOR 
THE DIRECTORY
, to sign up for listings and advertising for businesses, community groups, churches and agencies is Dec. 15. The annual business and community resource guide is sponsored by Kaʻū Chamber of Commerce and produced by 
The Kaʻū Calendar
. It includes photography and art by Kaʻū residents, a calendar of events, listings and feature stories including winners of the recent Beauty of Kaʻū art show, sponsored by the Chamber.     
The Directory
 raises scholarship money for students from Kaʻū throughout their higher education in trades, college and university studies. Printed each January, 7,500 copies of 
The Directory
 are distributed throughout Kaʻū and Volcano. To sign up, contact
geneveve.fyvie@gmail.com
.
Lava Entering the Ocean by Peter Bosted, of Ranchos, earned Honorable
 Mention in photography at the recent Ka`u Chamber of Commerce art show.
 It was taken shortly after sunset with enough light to illuminate the clouds.
CHRISTMAS IN THE COUNTRY holiday exhibit daily through Jan. 2 from 9 a.m. – 5 p.m., at Volcano Art Center Gallery in Hawai'i Volcanoes National Park. Featured at Christmas in the Country is the 17th Annual Invitational Wreath Exhibit, with prizes awarded for the best wreaths. To participate, contact Emily Weiss at 967-8222 or 
gallery@volcanoartcenter.org
. Free; park entrance fees apply.
BASKETBALL CAMP for children, first through eighth grades, is planned by Ocean View Baptist Church for February. Location is the Kahuku County Park, Feb. 20 - 24 from 3:30 p.m to 4:30 p.m. Organizers are looking for advance registration. Campers will learn skills of basketball and important fundamentals in an atmosphere that is fun and enjoyable. Space is limited. Call 333-0212.
To read comments, add your own, and like this story, see 
Facebook
. Follow us on 
Instagram
 and 
Twitter
.