Classic trucks and cars joined the Pāhala Christmas Parade yesterday. Photo by Julia Neal
PUBLIC INPUT ON THE
HAWAIʻI FOREST ACTION PLAN
update is being accepted through today. The plan, originally adopted in 2010, is managed by the state Department of Land and Natural Resources, Division of Forestry and Wildlife. It covers thousands of acres of forest in Kaʻū and Volcano as well as other districts of the Hawaiian Islands. The updating of the plan is required by the  U.S. government for federal funding provided to each state for forest management.
The Hawaiʻi Forest Action Plan is being revised and the public
can weigh in today. Kaʻū Forest Reserve, one of the state's
largest, is included in the plan. Photo by Rob Shallenberger
    The Hawaiʻi plan draft states: "Our life in these islands is directly tied to the health of our forests and the role that they play in recharging our groundwater, springs, and streams."
    The plan also explains the importance of Hawaiʻi being largely comprised of high islands, which "produce a precious commodity –  water." The plan explains that, "As the tradewinds approach a high tropical island, the air that has traveled thousands of miles over the open ocean rises and drops its cargo of rain. Trees on the forested peaks also capture fog from the misty clouds. This rainfall and fog drip are essential in sustaining life on the high islands," supporting the windward rainforests and cloudforests and the drier leeward forests.
    The draft covers all of Hawaiʻi's forest land ownerships — state, private, and federal — and views forests as a whole rather than by programs. It enables the Division of Forestry and Wildlife to integrate the many programs in one planning document.
     David Smith, State Forester and administrator for DOFAW, said, "This plan helps us to keep current on recent advances in forest conservation and watershed management, identify new threats that have emerged since 2010, and incorporate recent progress made with development of the forest products industry and planning on climate change.
    "We hope this information will be used to influence our communities, our state and national governments, and other leaders to invest in Hawai'i's forests for the future," Smith said.
    The Executive Summary says that the makers of the plan "have renewed our commitment to the cultural values and land stewardship ethic that we have inherited from the native Hawaiians: the passing of knowledge from one generation to the next, a deep respect for the ʻaina (the land that sustains us), the aloha spirit that binds us as a community, and a commitment to doing our part as responsible stewards of the 21st century ahupuaʻa."
     It also refers to the state motto Ua Mau Ke Ea, O Ka ʻĀina I Ka Pono, which means "The life of the land is perpetuated in righteousness." The plan says that the state Division of Forestry and Wildlife does "not simply hang this motto on the wall; in cooperation with our partners and volunteers we strive every day to do the right thing, to ensure that the land is cared for and preserved into perpetuity."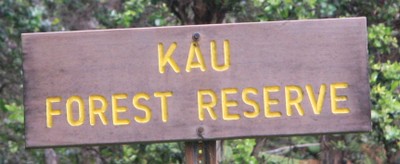 The
Hawaiʻi Forest Action Plan,
with more than 300 pages, has detailed history of land use and management in Hawaiʻi.
    It identifies nine priority areas: water quality and quantity; forest health, invasive species, insects and disease; wildfire; urban and community forestry; climate change and sea level rise; conservation of native biodiversity; hunting, nature-based recreation, and tourism; forest products and carbon sequestration; and US tropical island state and territorial issues.
      Key goals in the plan seek to:
     • Protect and manage forested watersheds for production of fresh water supply for public uses now and into the future;
     • Maintain biological integrity of native ecosystems;
     • Provide public recreational opportunities;
     • Strengthen the economy by assisting in the production of high quality forest products in support of a sustainable forest industry.
      View the
Hawai`i Forest Action Plan
draft at
dlnr.hawaii.gov
.
      Comments may be submitted in writing to:
Robert.D.Hauff@hawaii.gov
or to Forest Action Plan, Division of Forestry and Wildlife, Room 325, 1151 Punchbowl St., Honolulu, HI 96813.
Bid on these pigs through Dec. 20 at Kaʻū High School.
A SILENT AUCTION FOR PIGS grown at Kaʻū High School is taking place through Dec. 20. Staring bid is $120 per pig and each pig is 70 to 100 lbs in weight. The three highest bids give the bidders each a pig. Place bids at the office in Kaʻū High School, said teacher Michael Moe who is helping the students who raised the pigs at the campus. Raising the pigs along with hydroponic lettuce, macadamia and other foods are part of the rebounding of agriculture at Kaʻū High School.
To read comments, add your own, and like this story, see
facebook.com/kaucalendar
.
Jasmi Beck
VOTE TODAY TO SUPPORT JAMI BECK for Miss Photogenic in the Miss Teen Hawaiʻi Pageant. The deadline is Monday, Dec. 12. Beck will participate in the statewide pageant on Sunday, Dec. 18 at Neil Blaisdell Center in Honolulu. Beck is a graduate of Kaʻū High School and attends the University of Hawaiʻi in Hilo. She is a youth ranger at Hawaiʻi Volcanoes National Park. She is supported by Kaʻū Coffee Growers Cooperative. Beck tied for talent and came in first in the swimsuit division in Miss Kaʻū Coffee 2016. Vote at
Facebook.com
.
To read comments, add your own, and like this story, see
facebook.com/kaucalendar
.
PĀHALA CHRISTMAS PARADE was a resounding success,
yesterday, said organizer for 38 years, Eddie Andrade. The parade rolled through the village between rains, with Kaʻū Coffee queens, marchers, riders, classic cars, fire engines, police cars, Trojan girl basketball players and many church and community organizations.
     Tutu & Me marched and showed off its van. The non-profit with early childhood education programs in Kaʻū will host a Keiki Christmas Fund day and Open House for all keiki birth to five years of age, along with their caregivers on Tuesday, Dec. 20 at Pāhala Community Center.
     See more parade photos in tomorrow's Kaʻu News Briefs.
Tutu & Me will host a program for keiki birth to five years of age
and caregiver on Tuesday, Dec. 20. See more photos in tomorrow's
Ka`u News Briefs.  Photo by Julia Neal
DEADLINE FOR THE DIRECTORY, to sign up for listings and advertising for businesses, community
groups, churches and agencies is Dec. 15. The annual business and community resource guide is sponsored by Kaʻū Chamber of Commerce and produced by The Kaʻū Calendar. It includes photography and art by Kaʻū residents, a calendar of events, listings and feature stories including winners of the recent Beauty of Kaʻū art show, sponsored by the Chamber. The Directory raises scholarship money for students from Kaʻū throughout their higher education in trades, college and university studies. Printed each January, 7,500 copies of The Directory are distributed throughout Kaʻū and Volcano. To sign up, contact 
geneveve.fyvie@gmail.com
.
Pāhala Preschool participates each year in the
Pāhala Christmas Parade. See more photos in
tomorrow's Ka`u News Briefs. Photo by Julia Neal
FRIEND-RAISER IS NĀʻĀLEHU ELEMENTARY SCHOOL'S Winter Fest theme for Saturday. Dec. 17 from 10 a.m. to 2 p.m. "Make New Friends," declares the poster, which also reports on opportunities to enjoy shave ice, drinks, hot dogs – all for $1. Games are 50 cents. Also featured is a bounce house, raffle, bake sale, splash booth, jail, face painting and information vendors. Winter Fest is sponsored by the Nāʻālehu School Council.
REP. RICHARD CREAGAN'S OCEAN VIEW FORUM  will be held at Ocean View Community Center next  Monday, Dec. 19 at 6 p.m. Creagan represents District 5 in the Hawaiʻi House of Representatives and chairs the Committee on Agriculture. District 5 includes Honuʻapo to Nāʻālehu, to Ocean View, to Capt. Cook, Kealakekua and part of Kailua-Kona.
CHRISTMAS IN THE COUNTRY is ongoing through the holidays at Volcano Art Center in Hawaiʻi Volcanoes National Park. Free; park entrance fees apply.
VOTE FOR THE BEST DECORATED Kilauea Military Camp cottage through the holidays.
SUPPORT OUR SPONSORS AT 
PAHALAPLANTATIONCOTTAGES.COM
 AND       
KAUCOFFEEMILL.COM
. KA`U COFFEE MILL IS OPEN SESVEN DAYS A WEEK.