Derelict fishing nets and lines, collected from the Ka`u Coast, were packed into a 40-foot container on 
Saturday, to be shipped by Matson at no cost to Honolulu to be burned to make electricity. Nohea Ka`awa
winches the nets into a Hawai`i Wildlife Fund truck. See story below. Hawai`i Wildlife Fund photo
REP. TULSI GABBARD'S REQUEST FOR EVIDENCE is "an entirely reasonable position," writes Salon magazine writer Danielle Ryan — "but apparently, it's a big problem for some Democrats." Gabbard has called for investigating and presenting evidence on the details of both the chemical weapons attack that killed people in Syria and the response of the U.S. firing missiles into Syria.
     In a Salon article on Tuesday, Ryan pointed to an attack on Gabbard by Neera Tanden, head of the Center for American Progress and former Hillary Clinton adviser. Tamden "tweeted a link to Gabbard's appearance on CNN with Wolf Blitzer last week and essentially called out the congresswoman's constituents for keeping her in office." Tanden tweeted, "People of Hawai`i's 2nd district - was it not enough for you that your rep met with a murderous dictator? Will this move you?" Tanden was referring to Gabbard's trip in January to meet with Syrian President Basjar Al-Assad, which Gabbard called information gathering and a peace mission. Former Democratic National Committee Chair Howard Dean tweeted that  Gabbard is a disgrace and "should not be in Congress."
     Ryan wrote in Salon that "Tulsi Gabbard is an Iraq war veteran. She put her life on the line for her country. Democrats like Howard Dean and Neera Tanden smearing her name for the crime of skepticism is the real disgrace....So what is Gabbard's high crime? Simply wanting solid evidence before getting tangled up in a new war."
     The Salon writer referred to Gabbard, warning a year ago that the U.S. working to overthrow Assad was strengthening the position of Islamic extremists. Ryan quoted Gabbard saying that extremists "will walk in and take over all of the country of Syria if Assad's government falls." Gabbard contended that U.S. arms were falling into the hands of these enemies like Al Qaueda and Al Nursa.
     The writer pointed out that "since last week's missile attack, the Hawai`i congresswoman has been tweeting using the hashtag #ResistTrumpsWar - a clear dig at Democrats who claimed to be part of the anti_Trump 'Resistance,' but who are now fully supportive of what she calls his 'reckless and short-sighted' airstrikes."
     When questioning both the air strikes and chemical weapons strikes and wanting evidence, writes Ryan, the problem is with the framing of the Syrian problem. It "gives people two options: Be patriotic and believe U.S. intelligence officials unquestioningly or side with Assad and the Russians," the Salon writer concluded.
     Gabbard tweeted on Tuesday, "We need to learn from Iraq and Libya - wars that were propagated as 'humanitarian' but actually increased human suffering many times over." She tweeted, "No leader -- of either party, for/against U.S. intervention -- should let POTUS escalate another regime change war without congressional approval," and, "Some of my friends never came home from Iraq war; we have the duty not to allow lies/speculation to drag us into regime change war again."
Matson donated a container and the shipping for nets and line
from the Ka`u coast to be shipped to O`ahu to a power plant.
J.D.Services, LLC donated a tractor and operator.
Hawai`i Wildlife Fund Photo 
FIFTEEN THOUSAND POUNDS OF DERELICT FISHING NETS and bundles of line - most of it hauled off the Ka`u Coast - were loaded into a 40-foot Matson shipping container last Saturday. Hawai'i Wildlife Fund and eight volunteers filled the container. It was the tenth since 2005.  
     Hawai`i Wildlife Fund saves nets it collects from marine debris cleanup events along the shoreline for inclusion in NOAA's "nets to energy" partnership. Hawai'i was the first in the country to create this program, converting marine debris to electricity rather than tossing it into a landfill. Now, many ports around the mainland U.S. have similar strategies for this "fishing for energy" framework. 
     Megan Lamson, Hawai`i Wildlife Fund Program Director for Hawai`i Island, said, "This work would not be possible without the hundreds of volunteers who help Hawai`i Wildlife Fund with these ocean debris removal efforts every year. In particular, this net loading was made possible due to the generous donation by JD Services, LLC of a tractor and operator for the day, and the County of Hawai`i for allowing us to store these nets at the Nā'āhelu transfer station in between container loads."
     Matson Navigation provides the 40-foot container and free shipping of the marine debris from Neighbor Islands to O'ahu where Schnitzer Steel, a metal recycling company, cuts the nets into smaller pieces before they are delivered to the Covanta H-power Plant in Kapolei. There, they are burned and converted to electricity for the City and County of Honolulu.
      The vast majority of nets shipped last weekend were pulled off the remote and rocky Ka'ū coastline. Also shipped were six large net bundles, weighing 1,200 lbs., pulled out of the ocean by boaters in West Hawai'i and dropped off at Honokōhau Harbor earlier in 2017.
Megan Lamson operates the winch to
putt nets into the truck to ship them
to an electrical plant.
Hawai`i Wildlife Fund Photo
        Lamson said that the Hawai`i Wildlife Fund is "committed to removing marine debris from along our shorelines and working with local residents, businesses and government representatives to reduce the amount of plastic that finds its way into the ocean. Plastic pollution is a serious problem that now impacts most life forms that live in the ocean or use the ocean as a food source. But, it's a problem with an obvious solution. We must start reducing our usage of plastics, especially single-use plastics in order to protect the health of the ocean, and the health of the wildlife and people who depend on the ocean - all of us!"
Hei Demonstration, Wed, April 12, 10 a.m. – 12 p.m., Kīlauea Visitor Center lānai in Hawai'i Volcanoes National Park. No'el Tagab-Cruz teaches protocol and meaning behind traditional Hawaiian string figures that are used with oli (chants) to tell stories and connect with elements around us. Free; park entrance fees apply. 
Red Cross Volunteermeeting, Thu, April 13, 7 p.m., HOVE Road Maintenance Corp. office. For volunteers and those interested in becoming volunteers. Hannah Uribes, 929-9953 
Recycling at Nā'ālehu School, Sat, April 15, 9 a.m. – 1 p.m., Nā'ālehu School Gym. Redeem your HI-5 sorted by type; receive 5 cents per container and additional 20 cents per pound on all aluminum. Atlas Recycling donates 20 cents per pound on all aluminum redeemed to the school. 939-2413, ext. 230.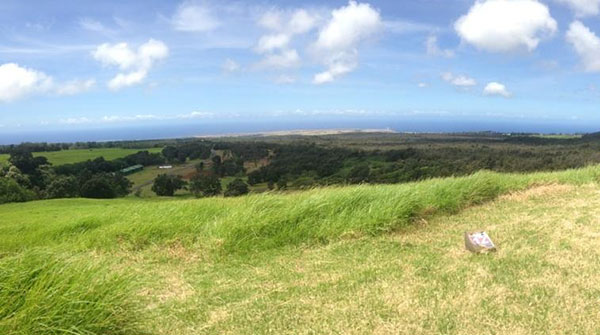 Kahuku Unit of Hawai`i Volcanoes National Park offers a two-mile, two-
hour guided hike on Saturday. NPS Photo

Realms and Divisions of Kahuku on Sat, April 15 from 9:30a.m. to11:30 a.m., is a moderately-difficult two-mile, two-hour guided hike on Kahuku Unit's newest trail, Pu'u Kahuku. Experience the sense of place that evolves through the inter-relationship of nature and culture. Explore the realms and divisions of the traditional Hawaiian classification system at Kahuku. Enter the Kahuku unit of Hawai'i Volcanoes National Park on the mauka (uphill) side of Highway 11 near mile marker 70.5, and meet near the parking area. Sturdy footwear, water, rain gear, sun protection, and a snack are recommended.