View from the Ka'ū Preserve. Photo by John Replogle
THE KA'Ū COMMUNITY DEVELOPMENT PLAN will go before the County Council's Planning Committee on Wednesday, Sept. 6, the County Planning Department announced on Monday. The meeting is open to the public and will provide opportunities to testify. The meeting will be held at the Hilo County Building, Council Chambers Room 1401, 25 Aupuni Street in Hilo. See the final plan that is up for adoption at www.hawaiicountycdp.info/kau-cdp
To read comments, add your own, and like this story, see 
Facebook
. Follow us on 
Instagram
 and 
Twitter
.
A PAID YEAR-ROUND INTERNSHIP WITH THE NATURE CONSERVANCY is offered, working on programs at its

 three preserves in Ka'ū and South Kona and an office at Honu'apo. 
     

The intern would be hired through Kupu, the non-profit company that aims to "empower youth to serve their communities through character-building, service-learning, and environmental stewardship opportunities that encourage pono (integrity) with Ke Akua (God), self and others."
    

 

According to the Job Description issued by The Nature Conservancy, the intern would have an "essential role in conducting TNC field operations. These operations include assisting surveying, mapping, monitoring, and controlling alien species and their impacts to Hawai'i forests. The intern must be willing and able to camp in remote mountainous areas for up to five nights at a time and operate in extremely rugged terrain and adverse weather conditions. Work environment involves exposure to job hazards where there is a high possibility of injury, including helicopter operations, so a commitment to safety is essential. The intern will assist the TNC team and partners with field operations that may include noxious weed control, feral ungulate control, trail maintenance, vehicle and equipment maintenance, fence construction/maintenance, data entry, and outreach activities."
A hawikbill turtle with her nest at the Kamehame Preserve.

Photo by Will Olsen/Hawksbill Recovery Project
     

The intern would be expected to work in all three preserves for a period of 11 months, from October 2017 to August 2018, with a general daily schedule being from 6:30 a.m. on site to 3 p.m. Monday through Friday (occasional weekends and variations to the schedule should be anticipated). In return the intern would earn a $1,440 monthly living allowance (before taxes) in addition to a $5,815 education award towards high education, and health care and childcare benefits (if eligible) while receiving an in-depth entry-level environmental experience.
     

All viable applicants must be at least 18 years of age (or 17 with a high school diploma) by October 2, 2017, possess/be working towards high school diploma or equivalent, have own housing and transportation and pass a criminal history check. For more details call 443-5401 and to complete an application online, visit kupuhawaii.org, under the Conservation Leaders Program.
     

The intern would gain experience at all three preserves:
TNC Forest Technician Mel Johansen stands in for scale
 in the Kona Hema Preserve. Photo from nature.org
     

The Ka'ū Preserve consists of 3,500 acres on Mauna Loa. The preserve consists of four separate parcels of tall wet 'ōhi'a and koa forest with a 1,200 acre section of fenced area that has been ungulate free for three years. The forest area begins at 2,000 elevation and in some areas continues to an elevation over 5,000 feet. Work conditions in the area can be wet and cold at times, with frequent rain in the afternoons. 
     

The Kona Hema Preserve consists of over 8,000 acres of dry land forest in South Kona and stretches in elevation from about 3,000 feet to 5,600 feet. Part of an ancient koa-'ōhi'a forest, this area is home to the Hawaiian hoary bat, and many native songbirds, despite the effects of more than a century of logging and feral animals. Work conditions in the area can be cold.
     

The Kamehame Preserve is a small 24 acre parcel on the Ka'ū coast. It is an important nesting ground for the endangered hawksbill turtle.
     

The Nature Conservancy is a worldwide non-profit conservation organization.
     

For more information about TNC, to volunteer or become a donor call 443-5401 or visit nature.org.
To read comments, add your own, and like this story, see 
Facebook
. Follow us on 
Instagram
 and 
Twitter
.
THE BAY CLINIC RECEIVED A VISIT FROM SEN. MAZIE HIRONO on Monday. She and its administrators discussed how the Affordable Care Act has impacted Hawaii'i Island community health centers and patients served through the ACA's expansion of federal funding for CHCs and Medicaid. 
"The ACA's Medicaid expansion has covered more than 100,000 Hawai'i residents and continues to help our community health centers provide access to quality, affordable health care," said Hirono.
"I remain committed to protecting health care as a right, not a privilege, for individuals and families in Hawai'i, and will continue fighting for critical funding to support our community health centers."
Sen. Mazie Hirono meets with Bay Clinic Women's Health Center.
Photo from Office of Sen. Mazie Hirono
      Hirono toured the Bay Clinic's Women's Health Center, and received an update on the Clinic's efforts to make East Hawai'i healthier by addressing social determinants in the community. These efforts include services provided through Bay Clinic's mobile health unit, which has expanded access to vital health and dental services in rural and underserved neighborhoods to support individuals who may not otherwise be able to access such services.
      Harold Wallace, the Bay Clinic's CEO said, 
"We are pleased that Senator Hirono is a strong advocate for affordable health care for all, which includes the underserved living in the most rural areas of Hawai'i Island. Her ongoing support of the ACA is critical to ensuring the Act stays and any reform focuses on strengthening the Act's provisions, such as the Marketplace Exchanges. We look forward to further partnering with Senator Hirono in her efforts to protect and strengthen certain provisions of the ACA, while also protecting Hawai'i's Prepaid Health Care Act."
      A statement from Hirono's office said that she 
continues to be a strong advocate for federal funding to support CHCs. In 2015, she voted for the Medicare Access and CHIP Reauthorization Act, which extended funding for CHCs provided by the ACA. This enhanced funding level will expire on Sept. 30, absent Congressional action to extend it. Hirono also recently 
met with state health officials, insurance companies, and providers in the state.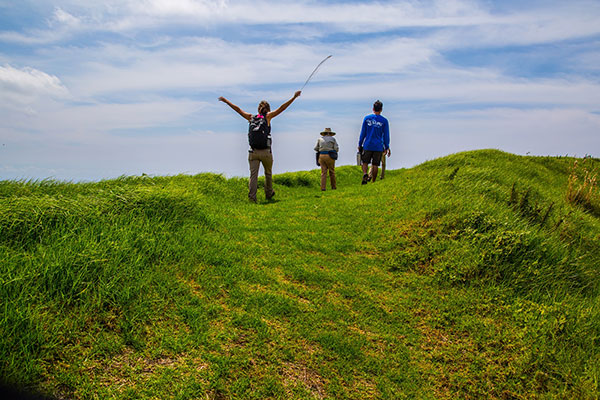 Visitors enjoy a guided hike to Pu'u o Lokuana cindercone,
within Kahuku Unit of Hawai'i Volcanoes National Park.
Photo by NPS/Janice Wei
REGISTER 5TH GRADE GIRLS FOR GEMS BY SEPT. 15. Ka'ū fifth grade girls are invited to start registering for GEMS, Girls Exploring Math and Science. The annual all day event has been set for the Crown Marriot King Kamehameha Kona Beach Hotel for Nov. 9.
     This event is sponsored by the American Association of University Women, Kona Branch, whose mission is to advance equity for women and girls though advocacy, education, and research.
     Registration is on a first come, first served basis, and space is limited. Registration fee is $20 and scholarships are available. No girl will be turned away because of financial need.
     Some of the workshops this year are: Underwater Adventure, Marine Science, Slime Time, Robotics, Anchialine Pools, Energy, Art and Science of Food, Animal Doctors, Dig into the Past, Hawaiian Monk Seals, Light and Reflection, Creative Computer Programming, How Rainbows Solve Mysteries, Art and Science of Dermatology, Discovering the Isle of Gems, Zumba Breaks the Mold and Body Shop.
     All fifth grade girls residing in the West Hawai'i School complex in public, private, or home-schooled are welcome. Sponsorship of girls by individuals or businesses will be accepted. For more information about GEMS, to sponsor a girl, or to request a registration packet, contact Cindy Armer, GEMS chairperson at cbarmer@hotmail.com or 808-896-7180. Remember GEMS registration form must be postmarked by 9-15-17. See more details on
Ka'ū News Briefs from August 15, 2017
.
To read comments, add your own, and like this story, see 
Facebook
. Follow us on 
Instagram
 and 
Twitter
.
UPCOMING EVENTS FOR FALL TROJAN SPORTS:
Girls Volleyball: Friday, Sept. 1, Ka'ū vs. Lapahoehoe, away game.
Eight-Man Football: 
Saturday, Sept. 2, Ka'ū vs. Kohala, away game. 
Cross Country: Saturday, Sept. 2, Ka'ū vs. Kealakehe, away meet.
AN EVENING WITH JOHN DAWSON is free to attend on Thursday, August 31, at 7 p.m. in the Volcano Art Center. Donations accepted. For more details call 967-8222. 
     Live Long and Prosper Mighty 'Ōhi'a a collection of paintings and illustrations that focus on the highly variable display of 'ōhi'a lehua trees found within the park is currently available for viewing daily from 9 a.m. to 5 p.m. through October 8, at Volcano Art Center Gallery in Hawai'i Volcanoes National Park. Gallery viewings are free, though park entrance fees apply.
REALMS AND DIVISIONS OF KAHUKU, a 
moderately difficult two-mile, guided hike on Kahuku Unit's newest trail, Pu'u Kahuku, explores the traditional Hawaiian classification system.
 The hike is scheduled for Saturday, Sept. 2, from 9:30 a.m. to 11:30 a.m. Bring a snack for the talk story segment of this hike. For more information, visit n
ps.gov/HAVO.
HAM RADIO OPERATORS INVITES a
ll American Radio Emergency Service members, anyone interested in learning how to operate a ham radio and families to attend a potluck picnic on 
Sunday, Sept. 3, at Manukā Park
. For more details, call Dennis Smith at 989-3028.
HIKE TO THE TOP OF PU'U O LOKUANA this
 Sunday, Sept. 3, from 9:30 a.m. to 11 a.m., within the Kahuku Unit of Hawai'i Volcanoes National Park. Learn about the formation and various uses of this grassy cinder cone and enjoy a breathtaking view of lower Ka'ū on this free, moderately difficult 0.4-mile hike to the top. For more detail, visit nps.gov/HAVO.
A VOLUNTEER FIRE DEPARTMENT MEETING is set for Monday
, Sept. 4, 4 p.m., at the Ocean View Community Center. For more details, call 939-7033.
KA'Ū COFFEE GROWERS COOPERATIVE MEETS TUESDAY
, Sept. 5, from 6 pm. to 8 p.m., at the Pāhala Community Center.
Pick up the August edition of 
The Ka`u Calendar 
delivered
free to 5,500 mailboxes throughout Ka`u, from Miloli`i 
through Volcano. Also available on stands throughout
the district. See it online at 
www.kaucalendar.com