Waikapuna, a coastal property makai of Nā'ālehu, could be purchased with PONC funds. See story below.
Aerial photo by Shalan Crysdale
DEFERRED ACTION FOR CHILD ARRIVALS got the legal backing of the State of Hawai'i today, when Hawai'i joined a coalition of 16 states in filing suit to protect DACA grantees. The lawsuit, filed this afternoon in the U.S. District Court for the Eastern District of New York, contends that Pres. Donald Trump's administration has violated the equal protection clause of the Constitution by discriminating against the 800,000 DACA recipients across the country, violated due process rights, and harmed States' residents, institutions, and economies.
Hawai'i Attorney General Doug Chin joined 15 other state AG's in
filing suit today to protect immigrant children living under DACA.
Sen. Mazie Hirono, left defends DACA in the U.S. Senate.
Photo from Doug Chin twitter
     Gov. David Ige said, "Hawai'i is going to court – again. This time we're joining 15 other states to fight for the future of our country's Dreamers. 600 Dreamers currently go to Hawai'i's schools, work in our businesses, and deserve certainty and stability."
   Attorney General Chin said, "With cruel indifference the President has taken an action that immediately robs hundreds of Hawai'i residents of certainty in their future. Many of these people, who have done nothing wrong, have only known Hawai'i as their home. I am grateful to Governor Ige for his leadership and clear-eyed dedication to supporting the Dreamers and protecting DACA. Following his lead, I have joined this lawsuit not only because it is the right thing to do, but because the way the President has proceeded is illegal."
Pick up the September edition of 
The Ka'ū Calendar 
delivered 
free to 5,500 mailboxes throughout Ka'ū, 
from Miloli'i 
through Volcano. Also 
available 
on 
stands throughout 
the district. 
See it online at 
kaucalendar.com
     According to the statement from the governor's office, Hawai'i is home to nearly 600 DACA grantees. "Hawai'i DACA recipients have had their protection renewed by the U.S. Department of Homeland Security more than 1,700 times. According to the Center for American Progress, 97 percent of DACA grantees are employed or go to school. In Hawai'i alone, it is estimated that ending DACA would cost more than $28 million in annual GDP losses. Over the next ten years Hawai'i stands to lose more than $126 million in tax revenues if DACA is rescinded."
     The complaint Hawai'i joined today was led by the attorneys general of New York, Massachusetts, and Washington, and joined by the attorneys general of Connecticut, Delaware, the District of Columbia, Illinois, Iowa, New Mexico, North Carolina, Oregon, Pennsylvania, Rhode Island, Vermont, and Virginia. Today's lawsuit also includes declarations from businesses, academic institutions, local governments, DACA grantees, and others impacted by the Trump administration's decision.
    See a copy of the complaint at
ag.ny.gov/
.
 To read comments, add your own, and like this story, see 
Facebook
. Follow us on 
Instagram
 and 
Twitter
.
A GLOBAL ENTRY PILOT PROGRAM for visitors from Japan was announced today by Sen. Mazie Hirono. The pilot program allows up to 1,500 Japanese citizens as determined by the Government of Japan and CBP, who have received a promotional code to apply for Global Entry. The Global Entry Program allows expedited screening for trusted travelers visiting the United States, including TSA PreCheck privileges.
      According to the Hawai'i Tourism Authority, nearly 1.5 million Japanese citizens visited Hawai'i in 2016 - spending over $1 billion in the state's economy and supporting over 26,000 jobs. The U.S. Commerce Department estimates nearly 3.6 million Japanese citizens visited the United States in 2016 and spent $16 billion, making Japan the fourth largest market for U.S. travel and tourism exports.  
Visitors from Japan, like part time Ka'ū resident Minako Yamazaki, right,
often support local events, such as this activity at the annual Ka'ū
Coffee Trail Run, coming up on Sept. 23.
Photo by Pam Taylor
     "Japan's inclusion in the Global Entry Program further strengthens our longstanding alliance and U.S. ties to the Indo-Asia-Pacific region," said Hirono. "Implementing this new pilot program will expedite and simplify the process for Japanese visitor arrivals in Hawai'i and better serve Hawaii's largest international visitor market."
      Hirono was an early advocate of Japan's inclusion,
leading a bipartisan letter
in 2014 to encourage the U.S. Department of Homeland Security to add the country to the Global Entry Program. She has also led similar efforts in support of India and Singapore's inclusion in the Global Entry Program. Singapore and India's inclusion was finalized in June 2016 and June 2017.
     The U.S. operates full Global Entry partnerships with the following countries: South Korea, the Netherlands, Panama, Germany, Singapore, the United Kingdom, Colombia, Switzerland, Argentina, and India. Canadian citizens are eligible for the Global Entry benefit via membership in the Nexus program.
HAWAI'I COUNTY COUNCIL BILL 13, a bill meant to reduce styrofoam use on Hawai'i Island, received strongly supportive written testimony from Hawai'i Wildlife Fund's Megan Lamson today.
Megan Lamson (left), of Hawai'i Wildlife Fund, is regularly involved
in cleaning-up Kamilo Beach (makai of Nā'ālehu) and strongly supports
Hawai'i County Council Bill 13 with her written testimony.
Photo by Kurt Lieber of Ocean Defenders Alliance
     Lamson wrote that she was asked by Maui County earlier this year in May to "present scientific information supporting their proposed Bill 127 on polystyrene food containers (which parallels Bill 13)." She stated that, at that time, she "provided clear examples of scientific studies and technical reports outlining the 3 reasons their council members should support this reduction bill. After a special two-day hearing, Maui Council Members voted in unanimous support of this bill."
     Those three reasons being: "negative impact to [Hawai'i's] marine environment, [the island's] economy / solid waste management, and common sense."
     She continued that, "Numerous scientific journal articles have reported on studies that found negative interactions between marine wildlife and plastic marine debris. I also shared examples of how polystyrene "PS" microplastic pieces (5mm and smaller) affected the development and behavior of fish in a laboratory study (perch). Another study conducted locally found evidence of polystyrene microscopic plastic particles in beach sand and water samples from the Hawaiʻi Island and O'ahu.
Trash found at HWF Kamilo Beach clean-up.
Photo from Hawai'i Wildlife Fund
     "I noted the recent report by the Hawai'i Department of Transportation - Highways Division in O'ahu that included recommendations to support ordinances that reduced plastic bags and foam containers to prevent litter along the highways. I also provided information from a California study prepared by the Natural Resource Defense Council (2013) that estimated the true cost of litter removal along highways and waterways in cities across that coastal state astronomical. Comparing a California city with a population similar to that of Hawai'i Island (population range: 75,000 – 249,000), they estimate an annual cost of debris management at $1,131,156.00 per year.
     "In addition, our current recycling system will only take #1, #2, and #5 plastics, and certain #4 if dealt with properly. Polystyrene foam is a #6 plastic and exceedingly difficult to recycle, despite what the opposition may tell you. Even large municipalities in states like California and New York are unable to recycle PS foam, and it becomes even harder to deal with for containers that are food-contaminated. Our 2009 Integrated Solid Waste Management Plan clearly shows a pathway for the County of Hawai'i towards zero waste.
     "Need I remind you that years ago, COH Council Members passed the plastic bag ban here on island and that program has been nothing but successful, decreasing bag litter and environmental hazards for native wildlife. The passing of Bill 13 is the next logical step in this direction towards counties goal for zero waste. It is the right thing to do.
Hawai'i Wildlife Fund's Megan Lamson carrying marine debris
 that washed up on Kamilo Beach (makai of Nā'ālehu).
Photo by Kurt Lieber of Ocean Defenders Alliance
     "A vote against this bill is a choice by representatives towards prioritizing corporations, pocketbooks, and businesses that refuse to change over prioritizing our children, our island communities, and our native wildlife. We have identified nearly 150 restaurants and vendors on island who have already committed to using foam alternatives. There are viable options available, and there should be no more excuses.
     "Please let me know if you would like any of the references to any of the facts I've provided within this testimony. As a scientist by training, I like to support my statements with documentation.
    "Last but not least, I think you reach should consider the scale of the marine debris problem on this island. In 2017 alone, Hawai'i Wildlife Fund and volunteers have removed over 50,875 pounds of marine debris from our shores. Debris that is full of plastic, debris that includes polystyrene foam. Even if foam is a small percentage of this waste (estimated at ~5% for Hawai'i County), it is something that we can do here locally to reduce our input and contribution to this global marine debris problem."
Marine debris collected by HWF.
Photo by Hawai'i Wildlife Fund
    In the final sentence of her testimony, Lamson invited council members to join HWF in future cleanup events to see for themselves what "improper waste management looks like at the end of the line."
     Bill 13 is on the agenda for tomorrow's HCC meeting beginning at 9 a.m. HCC's agenda describes Bill 13 as follows: "Prohibits food vendors from dispensing prepared food in disposable polystyrene food service ware effective July 1, 2019. Exempts ice chest and coolers; packaging for raw meat, fish, and eggs that have not been further processed; County facility users and food vendors with approval by the Environmental Management Director; and County facility users and food vendors procuring supplies during an event declared as an emergency by the Mayor."
     Emailed testimony was accepted until noon today. The Planning Committee Agenda can be found at 
hawaiicounty.granicus.com
. Ka'ū residents can participate via videoconferencing at Nā'ālehu State Office Building or by attending the meeting held in the Council Chambers in Hilo. For more about this bill see 
yesterday's Ka'ū News Briefs
.
To read comments, add your own, and like this story, see 
Facebook
. Follow us on 
Instagram
 and 
Twitter
.
THOSE INTERESTED IN SUPPORTING "FOAM FREE" BUSINESSES on the island can look to the
"Keeping It Green" Awardees
 listed below.
     Keeping It Green Hawai'i (KIGH) is a program by Recycle Hawai'i and Earth-Friendly Schools Hawai'i to "highlight activities of organizations, businesses, schools and agencies that foster resource awareness and sustainability in Hawai'i. By recognizing "green projects" taking place in our community, it is hoped that others will be motivated to take action towards caring for our environment and addressing local and global issues. Since 2008, 54 businesses, schools and organizations have received a KIGH award." Keeping It Green Hawai'i information, nomination form and past award recipients are available at 
recyclehawaii.org
 or call 969-2012.
     The "Keeping It Green"Awardees are: Abundant Life Natural Foods & Cafe Bayfront Coffee, Kava & Tea Company, Hilo Coffee Mill, Island Lava Java, Island Naturals Pahoa, Kohala Coffee Mill, Hana Hou Restaurant, Island Naturals Hilo, Island Naturals Kona, Kīlauea Lodge, Annie's Island Fresh Burgers, Natural Pacific Tofu, Volcano Garden Arts – Café Ono, and Kohala Burger & Taco.
To read comments, add your own, and like this story, see 
Facebook
. Follow us on 
Instagram
 and 
Twitter
.
See details below.
KA'Ū COMMUNITY DEVELOPMENT PLAN was considered for adoption at the Hawai'i County Council Planning Committee's meeting today in Hilo. See tomorrow's Ka'u News Briefs to read about the outcome. The Planning Committee Agenda can be found at: 
hawaiicounty.granic
us.com
. The Ka'ū CDP Steering Committee agenda can be found at: 
hawaiicountycdp.info/kau-cdp/
.
To read comments, add your own, and like this story, see 
Facebook
. Follow us on 
Instagram
 and 
Twitter
.
WILL PONC FUND WAIKAPUNA PURCHASE? Waikapuna, a coastal property located below Nā'ālehu, is on the Public Access, Open Space and Natural Resources Commission list. It may receive a resolution from County Council member Maile David, asking for the county to help fund the purchase of the property, during PONC's upcoming meeting. The meeting starts at 10 a.m. on Monday, Sept. 11, at West Hawai'i Civic Center, at the conference room in Building G. See the full story in the September print issue of 
The Ka'ū Calendar
 or read the 
Ka'ū News Briefs from August 23, 2017
.
To read comments, add your own, and like this story, see 
Facebook
. Follow us on 
Instagram
 and 
Twitter
.
                                    UPCOMING EVENTS FOR FALL TROJAN SPORTS:
Girls Volleyball: Friday, Sept. 8, Ka'ū vs. St. Joseph, away game.
Eight-Man Football: Saturday, Sept. 9, Ka'ū vs. Lana'i, away game.
Cross Country: Saturday, Sept. 9, Ka'ū vs. Kamehameha, away game.
Bowling: Saturday, Sept. 9, Ka'ū vs. Hilo & Konawaena at Kona Bowl.
REGISTER KEIKI FOR SUNFLOWER CRAFT until Sept. 15. The craft class, for keiki ages 6 to 14, will take place on Monday, Sept. 18, at Kahuku Park from 2:30 p.m. to 3:30 p.m. Call 929-9113 for more.
OCEAN VIEW NEIGHBORHOOD WATCH MEETS tomorrow, Sept. 7, 6 p.m., at the Ocean View Community Center. For more details call 939-2442 or 928-2015.
PANCAKE BREAKFAST AT OCEAN VIEW COMMUNITY CENTER is scheduled for Saturday, Sept. 9, from 8 a.m. to 11 a.m. For more details, call 939-7033.
ATLAS RECYCLING WILL COLLECTING AT SOUTH POINT U-CART on Saturday, Sept. 9, from 9 a.m. to 1 p.m.
BIRTH OF KAHUKU a free hike within the Kahuku Unit of Hawai'i Volcanoes National Park is offered on Saturday, Sept. 9, from 9:30 to 11:30 a.m. Explore the rich geologic history of Kahuku on this easy-to-moderate hike that traverses the vast 1868 lava flow, with different volcano features and formations. Learn about the Hawaiian hotspot and the creation of Kahuku. Visit 
nps.gov/HAVO
 for more details.
ACOUSTIC INSTRUMENT PLAYERS, DRUMMERS, SINGERS AND DANCERS ARE WELCOMED for Kanikapila, on Saturday, Sept. 9, from 6 p.m. to 9 p.m., at the Nā'ālehu Methodist Church Hall. For more call Desmond at 937-6305.
LEARN ABOUT THE VITAL ROLE OF 'ŌHI'A LEHUA, in native Hawaiian forests, the many forms of the 'ōhi'a tree and its flower on a free, easy, one-mile walk within the Kahuku Unit of Hawai'i Volcanoes National Park on Sunday, Sept 10, from 9:30 a.m. to 11 a.m. For more details visit 
nps.gov/havo
.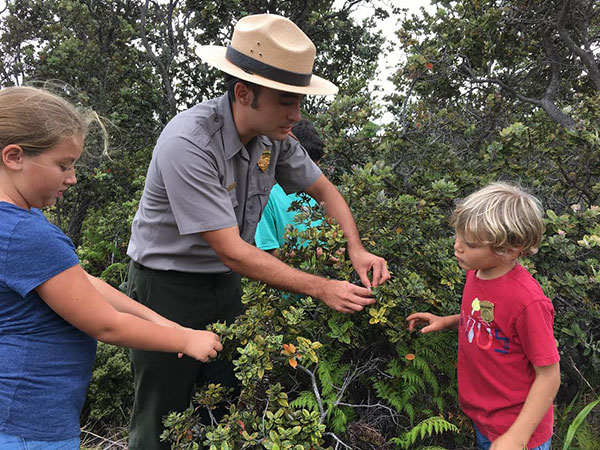 Ranger Noah Gomes explains the importance of 'ōhi'a lehua in nation forests.
Photo from NPS/Sierra McDaniel
SENIOR I.D.'s for people aged 60 and older will be issued on Monday, Sept. 11, at Pāhala Senior Housing Center, from 9 a.m. to 10 a.m. and at Nā'ālehu Community Center from 11 a.m. to 12 p.m.  For more information, call 928-3100.
REGISTER KEIKI GRADES K-8 FOR ART CLASSES IN PĀHALA.     
Tree of Life Thumbprint Art:
 register until Sept. 12. The art class will take place at Pāhala Community Center on Wednesday, Sept. 13, from 3p.m. to 5 p.m. For more information, call 928-3102.     
Tissue Art: 
register Sept. 11 until Sept. 19. The art class will take place at Pāhala Community Center on Wednesday, Sept. 20, from 3 p.m. to 5 p.m. For more, call 928-3102.
REGISTER 5TH GRADE GIRLS FOR GEMS BY SEPT. 15. Ka'ū fifth grade girls are invited to start registering for GEMS, Girls Exploring Math and Science. The annual all day event has been set for the Crown Marriot King Kamehameha Kona Beach Hotel for Nov. 9.
     Registration is on a first come, first served basis, and space is limited. Registration fee is $20 and scholarships are available. No girl will be turned away because of financial need.
     All fifth grade girls residing in the West Hawai'i School complex in public, private, or home-schooled are welcome. Sponsorship of girls by individuals or businesses will be accepted. For more information about GEMS, to sponsor a girl, or to request a registration packet, contact Cindy Armer, GEMS chairperson at cbarmer@hotmail.com or 808-896-7180. Remember GEMS registration form must be postmarked by 9-15-17. See more details on 
Ka'ū News Briefs from August 15, 2017
.