MONK SEALS AND OTHER MARINE MAMMALS will be further protected as Hawai'i conservation programs receive nearly $200,000 in National Oceanic and Atmospheric Administration funding for the recovery and treatment of stranded marine animals. Sen. Mazie Hirono said this morning, "Marine mammals are threatened by climate change, development, and pollution. This funding will help two Hawai'i organizations with a history in marine mammal protection to conduct research on marine mammal mortality and rehabilitate and release monk seals."
     This year's
John H. Prescott Marine Mammal Rescue Assistance grant
was awarded to The University of Hawai'i and The Marine Mammal Center for their work to support conservation research. As part of the grant funding, UH will receive $100,000 to investigate causes of mortality in Pacific Island marine mammals.
     "Whales and dolphins are sentinels of ocean health, and like a canary in a coal mine are one of our first indicators of change to Hawai'i's marine ecosystem," said Dr. Kristi West, standing director for the University of Hawai'i at Manoa. "As the only entity in the state that conducts cause of death investigations for stranded dolphins and whales, we rely heavily on the Prescott grant to determine what threatens the survival of 20 different species of dolphins and whales that call Hawai'i home."
Keiki play behind a monk seal at Honu'apo years ago, during the
early efforts to conserve the Ka'ū Coast. Photo by Julia Neal
     In addition, The Marine Mammal Center will receive $98,951 to support its Hawaiian Monk Seal Rehabilitation Program.
     "Public-private partnerships are essential for the successful conservation of the endangered Hawaiian monk seal," said Dr. Jeff Boehm, Executive Director of The Marine Mammal Center, which operates Ke Kai Ola in Kailua-Kona, a dedicated hospital for monk seals. "The critical funds from this award allow us to continue to rehabilitate vulnerable seals, understand health trends in the population, and enhance community involvement in recovery efforts."
     A statement from Hirono's office says that she continues to advocate for the protection of federal funding for NOAA. Earlier this year Hirono and Sen. Susan Collins (R-Maine)
led a bipartisan letter
to the Trump administration urging reconsideration of proposed cuts to NOAA's budget that would disproportionately hurt Hawai'i and other coastal states.
     The Trump administration's 2018 budget proposal currently threatens to zero out funding for the John H. Prescott Marine Mammal Rescue Assistance Grant Program and other NOAA programs.
ONE OF KA'Ū'S SISTER COFFEE PRODUCING REGION IN THE U.S. IS PUERTO RICO where
coffee plantations were recently ripped to shreds by Hurricane Maria. Puerto Rico and Hawai'i are the only places coffee is grown in any quantity in the U.S. Ka'ū coffee farmers have met their Puerto Rican counterparts numerous times at the annual Specialty Coffee Association of America conventions across the country as both regions have developed a specialty coffee. Coffee pickers from Puerto Rico also come to Ka'ū to work.
     Jayson Harper, a professor of agricultural economics at Penn State University, who has spent time in Puerto Rico, told the
Associated Press,
which reportedyesterday, that Hurricane Maria destroyed the high value crop that cannot be simply replanted like corn taken out by a tornado in the Midwest.
Coffee tree from Hacienda Pamarossa were ready for picking before
Hurricane Maria destroyed them and the industry. Only Hawai'i
and Puerto Rico grow coffee in the U.S. Photo from Pamaross
     He told
AP
writer David Pitt that coffee trees, when destroyed by wind, take several years to mature enough to produce beans again.
     The story stated that the Puerto Rico "coffee industry was hit at the worst time, just before the beans are picked, said Eva Legner, who with her husband Kurt operates Hacienda Pomarrosa in Ponce, a city on the island's southern coast where they have eight acres of coffee plants. The couple operates a small specialty coffee growing operation and a cottage where guests can stay on the coffee farm, tour the field and experience production. It is part of the island's growing agri-tourism industry.
     "She said the storm cut right through the island's mountainous coffee-growing area. The specialty beans their farm produces grow on bushes that are planted beneath taller trees to protect them from direct sun.
     "We've lost many trees which fell on the bushes and broke them," Legner said. "My husband tells me we lost a complete harvest," Legner told
AP.

To read comments, add your own, and like this story, see 
Facebook
. Follow us on 
Instagram
 and 
Twitter
.
THE STYROFOAM REDUCTION BILL is expected to be signed by Mayor Harry Kim, after passing the County Council and after much campaigning from individuals and non-profit organizations. The Hawai'i County Council passed the bill last week. The council vote was 7 to 2, with Ka'ū member Maile David in favor and only Aaron Chung and Sue Lee Loee Loy in opposition. It goes into effect July 1, 2019.
     Bill 13 reduces styrofoam use on the island by food vendors.
     The measure prohibits "food vendors from dispensing prepared food in disposable polystyrene food service ware." The bill "exempts food packaged outside the limits of the County." 
     It also allows for use of styrofoam ice chest and coolers; and packaging for raw meat, fish, and eggs that have not been further processed, 
     For years, proposals to cut back use of styrofoam have been proposed to the County Council but all have failed until now. Recently, Puna councilwoman Eileen O'Hara resurrected the effort by paring it back from an outside, business-wide, islandwide ban to use by those involved with county government.
     Mayor Harry Kim said he is grateful that the council gave him lead time for the transition. "They did a great job packing it into a tight bill," he told West Hawai'i Today.
     During the months prior to the bills passing, local non-profit Hawai'i Wildlife Fund made many public posts on Facebook asking community members to send in written testimony in support of the bill using the hashtag reference #HOLDTHEFOAM. Foam Free Hawai'i, another non-profit organization, shared an online petition found on
change.org
that sought to encourage Hawai'i County Council to "Ban Single-Use EPS (Styrofoam) Containers in Hawai'i County."
     Hawai'i Wildlife Fund's Megan Lamson said there are solid reasons to ban styrofoam: negative impact to Hawai'i's marine environment, the economy, solid waste management, and common sense. To read more of her testimony, visit the
Sept. 6 Ka'ū News Briefs
.
     See the films on the council meetings at Big Island Video News.
THE ANNUAL ART SHOW WINNERS will be announced tomorrow, Saturday, Sept. 30, between 10:30 a.m. and 11:30 a.m. at an Artist Reception, which is arranged by Ka'ū Chamber of Commerce in the CU Hawai'i Federal Credit Union Annex Building (behind CU) in Nā'ālehu.
     Door prizes and art show winner prizes will be distributed.
     The winning popular vote piece will be displayed on the cover of 
The Directory 2018, 
according to new Chamber co-chairs Alan Stafford and Allen Humble who describe the annual art show as a fundraiser for the Ka'ū Chamber of Commerce scholarship program. For more details, visit the Chamber website at 
kauchamber.org
 or call 936-5288.
Pick up the September edition of 
The Ka'ū Calendar 
delivered
free to 5,500 mailboxes throughout Ka'ū, from Miloli'i 
through Volcano. Also available on stands throughout
UPCOMING FALL TROJAN SPORTS:
Girls Volleyball 
Friday, Oct. 6, Ka'ū vs. Kealakehe, home.
Wednesday, Oct. 11, Ka'ū vs. Kohala, away.
Friday, Oct. 13, Ka'ū vs. Honoka'a, home.


Eight-Man Football
Saturday, Oct. 7, Ka'ū vs. Kohala, home.
Saturday, Oct. 21, Ka'ū vs. Pāhoa, home.


Cross Country
Saturday, Sept. 30, Ka'ū vs. Waiakea, away.
Saturday, Oct. 7, Ka'ū vs. Kea'au, away.
Saturday, Oct. 13, Ka'ū vs. BIIF, away.


Bowling
Saturday, Sept. 30, Ka'ū vs. Kamehameha at Kona Bowl.

Cheerleading
Wednesday, Oct. 4, at Konawaena.
Wednesday, Oct. 18, at Kamehameha.
To read comments, add your own, and like this story, see 
Facebook
. Follow us on 
Instagram
 and 
Twitter
.
REGISTER KEIKI GRADES K-8 FOR AN ART CLASS until Tuesday, Oct. 3. The class, Cupcake Liner Owl, takes place from 3 p.m. to 5 p.m. on Wednesday, Oct. 4, at the Pāhala Community Center. For more, call 928-3102.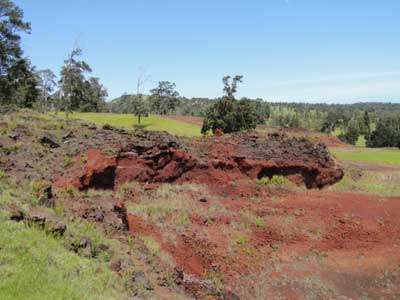 Birth of Kahuku is offered tomorrow. Photo from nps.gov/HAVO
HAWAI'I FARMERS UNION United will hold its annual Ka'ū chapter meeting at Pāhala Plantation House, at 96-3209 Maile St. tomorrow, Saturday, Sept. 30, from 3 p.m. to 5 p.m. Members and friends are invited to participate in the Ka'ū Chapter business and Convention discussion, election of board members and a potluck dinner.
BIRTH OF KAHUKU a free hike within the Kahuku Unit of Hawai'i Volcanoes National Park is offered tomorrow, Saturday, Sept. 30, from 9:30 to 11:30 a.m. Explore the rich geologic history of Kahuku on this easy-to-moderate hike that traverses the vast 1868 lava flow, with different volcano features and formations. Learn about the Hawaiian hotspot and the creation of Kahuku. Visit 
nps.gov/HAVO
 for more details.
NATIONAL PUBLIC LANDS DAY IS TOMORROW, SATURDAY, Sept. 30, and Hawai'i Volcanoes National Park is offering free entrance and two opportunities to help to remove invasive plant species, one in the park and the other in the Ocean View community.
     To join the Stewardship at the Summit program from 9 a.m. to noon, meet volunteers Paul and Jane Field at Kīlauea Visitor Center at 8:45 a.m., then head into the forest to remove Himalayan ginger from the summit of Kīlauea. Volunteers receive a free park pass to use on another date of choice. 
     In Ocean View, volunteers will remove invasive fountain grass. Meet at the Ocean View Community Center this Saturday, Sept. 30, at 9 a.m.; bring lunch, water, a hat and sun protection. Contact Park Ecologist David Benitez at 985-6085 or email him at david_benitez@nps.gov for more information about this project.

HAM RADIO OPERATORS POTLUCK PICNIC takes place Sunday, Oct. 1, at Manukā Park. All American Radio Emergency Service members, anyone interested in learning how to operate a ham radio and families are invited to attend. For more details, contact Dennis Smith at 989-3028.

VOLUNTEER FIRE DEPARTMENT MEETS MONDAY, Oct. 2, at 4 p.m., at the Ocean View Community Center. For more, call 939-7033.
TWO STORY TIME EVENTS ARE OFFERED AT KA'Ū LIBRARIES the first week of October. Tūtū and Me Traveling Preschool staff will read a book aloud to keiki of all ages, with "a fun activity and snack provided following the story," according to the event flier issued by Hawai'i State Public Library System.
Story Time
 is free to attend and will take place from 10 a.m. to 11:30 a.m. at Nā'ālehu Public Library on Monday, Oct. 2, and from 10:30 a.m. to noon at Pāhala Public Library on Thursday, Oct. 5.
      For more information call Nā'ālehu Public Library at 939-2442 or Pāhala Public Library at 928-2015. For more library events, visit 
librarieshawaii.org/events
.
DANCE IMAGINED, a class lead by Karen Masaki that "encourages exploration and builds strength and fluidity for pure exhilaration of movement," will be held on Tuesdays this month: Oct. 3, 10, 17, 24, and 31. The classes will take place at the Volcano Art Center from 10 a.m. to 11:30 a.m. and incur a fee of $20 non-members and $15 for Volcano Art Center members or $50 for the entire series. For more, call 967-8222.
HAWAI'I COUNTY COUNCIL MEETS Tuesday, Oct. 3, and Wednesday, Oct. 4. Ka'ū residents can participate via videoconferencing at Nā'ālehu State Office Building. Agendas at hawaiicounty.gov.
KA'Ū COFFEE GROWERS MEET TUESDAY, Oct. 3, from 6 p.m. to 8 p.m. in the Pāhala Community Center.
OPEN MIC NIGHT AT KĪLAUEA MILITARY CAMP'S LAVA LOUNGE, in Hawai`i Volcanoes National Park, is scheduled for Wednesday, Oct. 4, from 6 p.m. to 10 p.m. Call 967-8365 after 4 p.m. to sign up. Open to authorized patrons and sponsored guests. Park entrance fees apply. For more details, call 967-8371.
HULA VOICES takes place on Thursday, Oct. 5, from 5 p.m. to 7 p.m. at Volcano Art Center Gallery in Hawai'i Volcanoes National Park. Desiree Moana Cruz moderates this free event, with Kumu hula Iwalani Kalima of Hula Hālau O Kou Lima Nani E presenting her hula experiences. Park entrance fees apply.
OCEAN VIEW NEIGHBORHOOD WATCH MEETS THURSDAY, Oct. 5, at 7 p.m. in the Ocean View Community Center.
VOLUNTEERS ARE NEEDED TO HELP REMOVE INVASIVE, NON-NATIVE PLANT SPECIES that prevent native plants from growing in Hawai'i Volcanoes National Park, a UNESCO World Heritage Site. This Stewardship at the Summit event will take place four times in October - Saturdays, Oct. 7 & 21, and Fridays, Oct. 13 & 27, at 9 a.m.
     To join the efforts, meet project leaders Paul and Jane Field at Kīlauea Visitor Center at 8:45 a.m. on any of the aforementioned dates. Volunteers should wear sturdy hiking shoes and long pants and bring a hat, rain-gear, day pack, snacks and water. Gloves and tools will be provided. No advance registration is required, and there is no cost to participate, but park entrance fees apply. Visit the park website for additional planning details: 
nps.gov/havo/planyourvisit/summit_stewardship.htm.