Martin Luther King, who visited Hawai'i, recognized the concept of aloha. His name was brought up by Jim Albertini
at the County Council hearing on the resolution for peaceful negotiations over the Korea situation.
A PEACEFUL, DIPLOMATIC SOLUTION TO THE NORTH KOREAN SITUATION is the aim of a resolution approved Wednesday, Oct. 18, in an 8-0 vote by the Hawai'i County Council.
     The idea was brought to the council by Koohan Paik, who lives here but grew up in Korea. She said her father was a refugee of the Korean War and after her family moved to the U.S., her father became the first Korean attorney in the nation. She said that with her family background in the Korean War, and herself an appreciative U.S. citizen, she is concerned that warships have been sent from Pearl Harbor to the Western Pacific to become involved with the North Korean situation. She urged "diplomatic talks rather than military strikes." She said she also worries about a nuclear winter that could screen light from the sun and severely reduce production of food and damage the environment, should a nuclear war break out.  
Koohan Paik suggested the resolution
for diplomacy to the County Council.
     Ruth Robison, President of the United Nations Association of the U.S.A./Hawai'i Island Chapter, said her organization supports the resolution and reminded the Council that the U.N. was founded after World War II to promote diplomacy over war.
     Jim Albertini, of Malu 'Āina, said his organization supports the resolution. He said the United States has spent $5 trillion on war since 9/11, money that could have been spent on such domestic needs as health care, education, cleaning up the environment, including here in Hawai'i County. "The only shelter is peace," he said. "It's time to support diplomacy not war in the Korean Peninsula and all over the world." Albertini said that Martin Luther King recommended not only looking to those perceived as enemies to stop violence but also to the people of the U.S. and the U.S. government.
     Stephanie Tabata, of Ka'ū, noted that the resolution uses the word aloha. She said using the word aloha needs to be recognized as serious and spiritual and that Hawai'i is also more than just a word. She said Hawai'i is the piko - the umbilical cord of the whole world, the earth. "Tūtū Pele is still giving out life through her lava." Tabata advocated the practice "to live aloha." She quoted the late Rev. Abraham Akaka, who said "aloha is love seeking to unite what is separated in the world....Aloha is the power that unites heart with hearts, soul with souls, life with life, culture with culture, race with race, nation with nations. Aloha is the power that can reunite."
      The resolution points out that "a peaceful solution to the present situation between the United States and North Korea is of particular importance to the State of Hawai'i given our geographic location and vulnerability in the event of a war between the two nations."
      It says that "a call by the people of Hawai'i for a peaceful resolution to any serious conflict situation, not just this one, is in keeping with our islands' most treasured ideal, that of aloha."
      The resolution points out that North Korea "has conducted six nuclear tests since 2006, including a recent hydrogen bomb test, and a spate of ballistic missile tests with ever-increasing range."
      It notes that the U.S. "has responded by, among other things, dispatching a naval armada to the Korean peninsula region earlier in the year, conducting bomber flights close to the North Korean border, and calling upon other countries to enact and enforce rigorous economic sanctions against the reclusive nation."
      The resolution states that "global tensions and anxieties have been further heightened by the uninhibited exchange of rhetoric" between leaders of the U.S. and North Korea. It notes that on Sept. 11 this year the United Nations Security Council not only established severe sanctions upon North Korea; it also "re-iterated the importance of maintaining peace and stability on the Korean Peninsula and in north-east Asia at large, and its commitment to a peaceful, diplomatic and political solution to the situation through dialogue in order to reduce the tensions in the Korean Peninsula and beyond."
     Corey Harden, of Hilo, testified, that "People are probably wondering why North Korea is so belligerent. But who knows about the U.S. bombing during the Korean War?" She said that "A former
Washington Post
reporter calls that bombing perhaps the most of forgotten part of a forgotten war. He adds that Dean Rusk, later Secretary of State, said that The United States bombed everything that moved in North Korea, every brick standing on top of another.
     "After running low on urban targets, U.S. bombers destroyed hydroelectric and irrigation dams, flooding farmlands and destroying crops. The U.S, dropped 635,000 tons of explosives on North Korea. That's over 100,000 more tons than used in the entire Pacific during World War II. Thirty-two thousand tons of those bombs were were Napalm. General Curtis Lamae, head of the Strategic Air Command, said 'every town was burned down and one out over every five people was killed from war, or starvation, or exposure.' That's why North Korea is so belligerent," said Harden.
Corey Harden pointed to the U.S. damage to North Korea during
the Korean War as a reason for belligerence.
Photo and see more at bigislandvideonews.com
      She asked, "Why is the U.S. so belligerent?" and pointed to Pres. Donald Trump, contending that he undermines negotiations and calls out the North Korean leaders. She said that voters must work on resisting Trump, through voting for those who would remove him.
     The resolution, introduced by County Council members Valerie Poindexter and Aaron Chung will be sent to President Donald Trump; Kim Jong-un, Supreme Leader of the Democratic People's Republic of Korea; Secretary of State Rex Tillerson; Secretary of Defense James Mattis; Sen Mazie Hirono; Sen. Brian Schatz; Rep. Tulsi Gabbard; Rep. Colleen Hanabusa; Gov. Daid Ige; and Mayor Harry Kim.
     See testimony on the resolution at 
bigislandvideonews.com
.
To read comments, add your own, and like this story, see 
Facebook
. Follow us on 
Instagram
 and 
Twitter
.
HAWAI'I DEFENSE CONTRACTORS MUST MEET NEW REQUIREMENTS, by the end of the year, reports Sen. Mazie Hirono. Today, during a Senate Armed Services Committee on strengthening cybersecurity, she questioned Assistant Secretary of Defense for Homeland Defense and Global Security Kenneth Rapuano on how the Department is helping defense contractors comply with heightened requirements to ensure sensitive information is protected.
Rapuano told Hirono that DOD will
ensure that all contractors receive
notice of new cybersecurity
requirements.
     "As we continue to face cybersecurity threats, it's critical that we increase data protection," said Hirono, Ranking Member of the Senate Armed Services Seapower Subcommittee. "I will continue to work with the Department of Defense to ensure that contractors in Hawai'i, especially small businesses, have enough information and time to meet the new requirements."
     By Dec. 31, all Department of Defense contractors must comply with
updated cybersecurity requirements
. During the hearing, Rapuano told Hirono that he will provide information on how the Department of Defense is notifying contractors of the new requirements to ensure that the measures are sufficient to reach all defense contractors affected. 
     Hirono also pressed Acting Department of Homeland Security Undersecretary for the National Protection and Programs Directorate Christopher Krebs on actions the administration is taking to prevent foreign interference in U.S. elections.
SEN. MAZIE HIRONO TOOK U.S. ATTORNEY GENERAL JEFF SESSIONS TO TASK on Wednesday during his testimony before the U.S. Judiciary Committee where she is a member.
   She reminded him of his comment regarding Judge Derrick Kahele Watson when Watson, a federal judge in Hawai'i, stopped the implementation of Pres. Donald Trump's first travel ban. She quoted Sessions saying last April, "I'm amazed that a judge sitting on an island in the Pacific can issue an order that stops the President of the United States from what appears to be clearly his statutory and constitutional power." Said Hirono, "When a public official like you makes a statement like that, it tends to legitimize the views of people who think that the great ethnic and racial diversity in my state makes us somehow less American."
Sen. Mazie Hirono questioned Jeff Sessions Wednesday on travel ban, firing
U.S. Attorneys and DACA.
    Sessions responded that it was not about Hawai'i but his concern that "just one in 600 federal district judges in the country can stop the entire process."
    Hirono also asked Sessions on Wednesday why all U.S. Attorneys were dismissed without warning several months into the Trump administration. Sessions admitted that he did have something to do with the firings.
    Regarding Deferred Action for Childhood Arrivals, Hirono told Sessions that when undocumented immigrant young people signed up for DACA to stay in the country they relied on the government and believed that information given would not be used to target them. She called it a bait and switch should the information be used to deport them. Sessions said the answer in solving the DACA situation is with Congress and that Homeland Security is responsible for carrying out the DACA program.
     After the hearing, which was designed to review Sessions' work as U.S. Attorney General to date, Hirono posted, "As Attorney General, Jeff Sessions has demeaned our independent judiciary, and continues to attack DREAMers. We will continue to hold him accountable."
     See testimony on the resolution at 
bigislandvideonews.com
.
     To read comments, add your own, and like this story, see 
Facebook
. Follow us on 
Instagram
 and 
Twitter
.
THE ANNUAL KAUAHA'AO CONGREGATIONAL CHURCH fundraising bazaar in Wai'ōhinu has been announced. The date is Saturday, Nov. 18, from 9 a.m. to  2 p.m. on the church grounds. The church is located on the corner of Māmalahoa Hwy, Kama'oa Road and Pinao Street just above the Wong Yuen Store and Gas Station.
    Individuals, schools, clubs, and sports/athletic groups are invited to be a vendor at the "flea market" on the church grounds. The charge for a 10' X 10' space is $10. Vendors are responsible for bringing their own tent, table and chairs, and if power is needed, a generator. Vendors can sell anything except hot foods/plate lunches.
    The Church will be selling Kālua Pig plate lunch and containers of Kālua Pig, as well as baked goods, produce, and crafts. Throughout the day, there will be free entertainment "provided by our talented community groups," said Walter and Debbie Yuen at 928-8039.
FRIENDS OF THE KA'Ū LIBRARIES will man a booth at the annual Kauaha'ao Congregational Church fundraising bazaar in Wai'ōhinu on Saturday, Nov. 18. Donations of baked goods, books and good condion, slightly used, reusable rummage are being accepted to raise money for Friends of the Ka' Libraries.
     Drop off donation at Nā'ālehu Public Library or Pāhala Public and School Library no later than Friday, Nov. 17, by 3 p.m. or bring to the Libraries tent on, Nov. 18, at Kauaha'ao Congregational Church grounds at 8 a.m. For more info, call Linda Morgan at 785-2058.
To read comments, add your own, and like this story, see
Facebook
. Follow us on
Instagram
and
Twitter
.
THE 20TH ANNIVERSARY OF KA'Ū POLICE headquarters will be celebrated this Saturday, Oct. 21, from 9 a.m. to 1 p.m. at the Ka`u Police Station in Nā'ālehu.
    The event is supported by County Council member Maile David, 'O Ka'ū Kākou and Hawai'i County Police Department.
     Food - Chili and rice, hot dogs and shave ice - will be served. A water slide, bouncing castle, rock climbing, face painting, and keiki I.D.s will also be available at the event. Backyard Braddahs will provide music.
    The Food Basket will also give out food baskets to families at the event.
To read comments, add your own, and like this story, see 
Facebook
. Follow us on 
Instagram
 and 
Twitter
.
LEARN ONE OF THE GREAT TRADITIONAL ARTS OF HAWAI'I, ulana lau hala, at Hawai'i Volcanoes National Park. The free Lau Hala workshop takes place Wednesday, Oct. 25, from 10 a.m. to 12 p.m. on the Kīlauea Visitor Center lānai. Hawaiians have used the hala (pandanus) tree to create many useful, artistic items for centuries. Those learning to weave lau hala can take home their own peice of lau hala art. The class in one of the 'Ike Hana No'eau, Experience the Skillful Work, workshops. Park entrance fees apply.
To read comments, add your own, and like this story, see 
Facebook
. Follow us on 
Instagram
 and 
Twitter
.
Pick up the October edition of The Ka'ū Calendar delivered
free to 5,500 mailboxes throughout Ka'ū, from Miloli'i 
through Volcano. Also available on stands throughout
the district. See it online now at 
kaucalendar.com
UPCOMING FALL TROJAN SPORTS:
Eight-Man Football
Saturday, Oct. 21, Ka'ū vs. Pāhoa, home.
To read comments, add your own, and like this story, see 
Facebook
. Follow us on 
Instagram
 and 
Twitter
.
HAWAIIAN CULTURAL DEMONSTRATIONS WILL BE GIVEN TOMORROW, Friday, Oct. 20, from 10 a.m. to noon in the Kahuku Unit of Hawai'i Volcanoes National Park. The program, 'Ike Hana No'eau, Experience the Skillful Work takes place on the third Friday of each month, with two more scheduled for 2017, Nov. 17 and Dec. 15. The event is free.
TOMORROW, FRIDAY, OCT. 20, IS LAST DAY TO REGISTER KEIKI AGES 5-12 for a Halloween Mask Making class that takes place Wednesday, Oct. 25, from 4 p.m. to 5 p.m., at the Nā'ālehu Community Center.  For more, call 939-2510.
TAI CHI FOR HEALTH will be presented tomorrow, Friday, Oct. 20, at the Ka'ū District Gym, with Dr. Myrtle Miyamera, from 10 a.m. to noon, sponsored by Ka'ū Resource Center and Pāhala Parks & Recreation.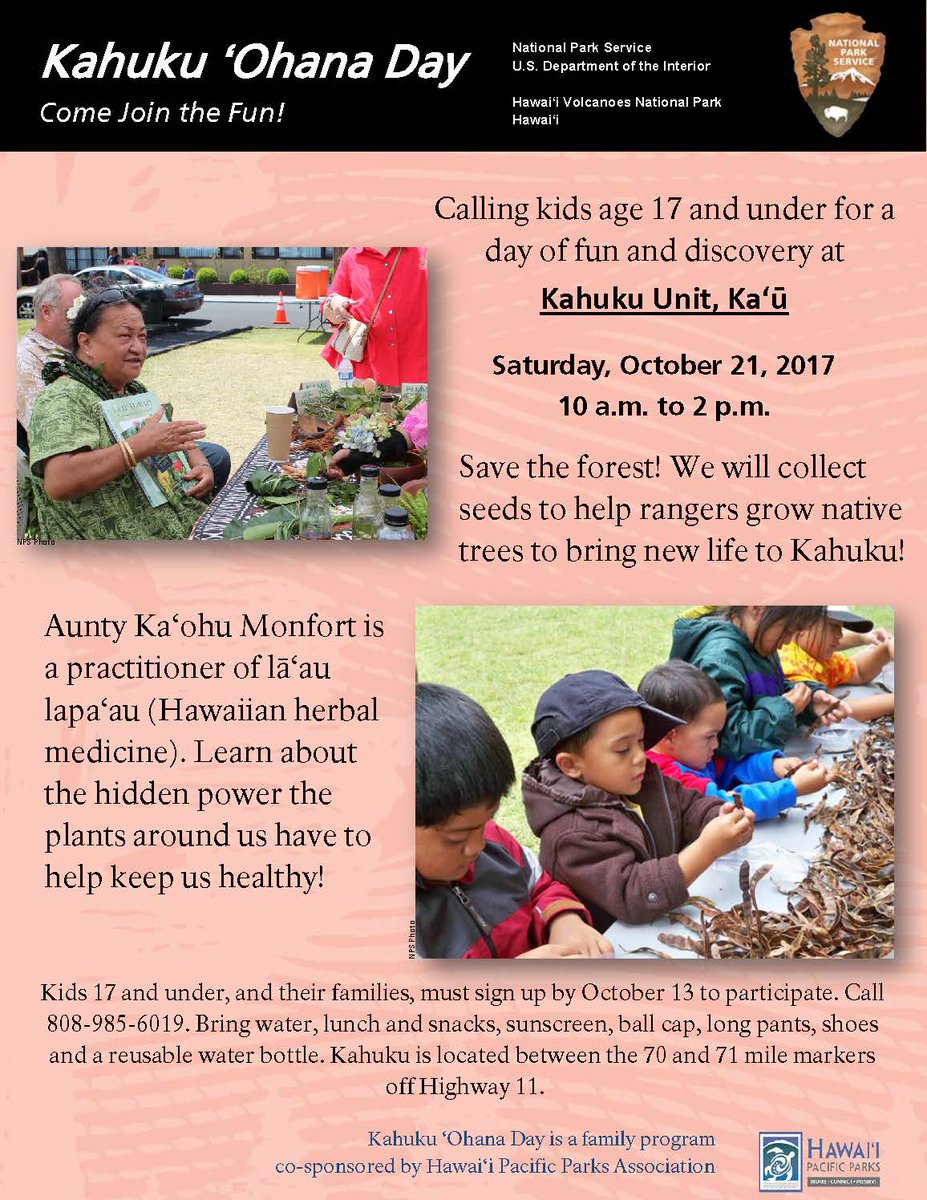 FAMILIES ARE INVITED FOR A DAY OF FUN, CULTURE AND DISCOVERY for Kahuku 'Ohana Day in the Kahuku Unit of Hawai'i Volcanoes National Park on Saturday, Oct. 21, from 10 a.m. to 2 p.m. (Registration required by Friday, Oct. 13).
     Hawai'i Volcanoes press release promoting the event says "Learn about the hidden powers that plants have to keep us healthy through the teachings of Aunty Ka'ohu Monfort, a practitioner of lā'au lapa'au (Hawaiian herbal medicine). Collect seeds from native plants and help park rangers bring new life to Kahuku."
     Kids 17 and under and their families must sign up by October 13 to participate by calling 808-985-6019. Bring water, lunch and snacks, sunscreen, hat, long pants, shoes and reusable water bottle. Kahuku is located between the 70 and 71 mile markers on Highway 11.
NATURE & CULTURE: AN UNSEVERABLE RELATIONSHIP, a moderate hike approximately 2 miles takes place tomorrow, Saturday, Oct. 21, from 9:30 a.m. to 11:30 a.m. at Kahuku Unit of Hawai'i Volcanoes National Park. Palm Trail hikers visit a place where catastrophic change (hulihia) and subsequent restoration (kulia) can be observed as the land transitions from the 1868 lava flow with its pioneer plants to deeper soil with more diverse and older flora. Learn about native plants that play a vital role in Hawaiian culture. Free. The hike will be offered again on Nov. 25. Visit 
nps.gov/havo
 for more.
RECYCLING WILL BE ACCEPTED AT NĀ'ĀLEHU ELEMENTARY SCHOOL GYM on Saturday, Oct. 21, from 9 a.m. to 1 p.m. by Atlas Recycling. Redeem HI-5 sorted by type; receive 5 cents per container and additional 20 cents per pound on all aluminum. Atlas Recycling donates 20 cents per pound on all aluminum redeemed to the school. For more, call 939-2413, ext. 230.
AUDITION SATURDAY, OCT. 21, FOR A 
GILBERT & SULLIVAN CHRISTMAS CAROL
, at 10 a.m. in Kīlauea Military Camps's Kīlauea Theatre. Auditioners prepare a song that best features vocal ability. There are parts for all ages, from Scrooge to Tiny Tim.
     The December play by Kīlauea Drama & Entertainment Network will be performed for one weekend, Dec. 14 through 17, Thursday, Friday, & Saturday at 7:30 p.m. and Sunday at 2:30 p.m. For more information, read the 
Ka'ū News Briefs from September 13
, call 982-7344 or email 
kden73@aol.com
.
THE OCEAN VIEW DEEP CLEAN project is gearing up for Saturday, Oct. 21. Supported through a grant from Matson Navigation, it will provide containers for large items being disposed of, including broken appliances and furniture. The event begins at 8 a.m. at Ocean View Community Center. Those who would like to volunteer can call 939-7033, Mondays through Fridays from 8 am. to noon and 217-7982 in afternoons and evenings, said Ocean View Community Association President Ron Gall.
     Volunteers need to wear sturdy shoes and gloves, sunscreen, long pants/jeans and hat. OVVC will provide bottled water and lunch for volunteers. "The Community Association is seeking a tire recycler to haul off the many tires dumped in the community," Gall said.
     In addition to Matson, the Hawai'i County Solid Waste Division is providing some assistance.
WRITING ON THE WILD SIDE, a workshop at Volcano Art Center will take place Saturday, Oct. 21, from 9:30 a.m. to 4 p.m. Tom Peek's techniques and exercises help students explore their creative minds and unique voices. The class is $75 per person or $65 per person for VAC members. For more, call 967-8222.
A HULA KAHIKO PERFORMANCE will be given on the hula platform near Volcano Art Center Gallery in Hawai'i Volcanoes National Park Saturday, Oct. 21, starting at 10:30 a.m. Nā Kumu hula Micah Kamohoaliʻi and Hālau Na Kipuʻupuʻu will perform. Also see Nā Mea Hula with Halauolaokalani from 11 a.m. to 1 p.m.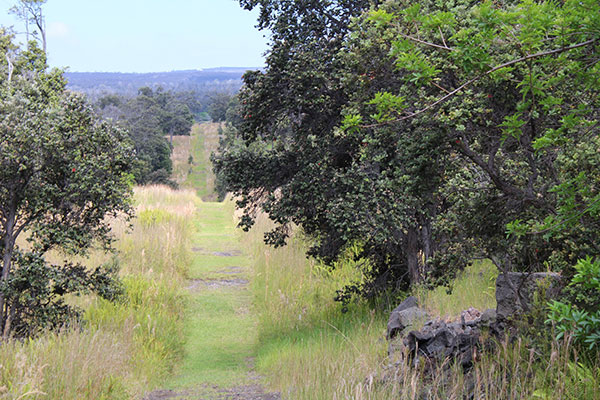 Palm Trail Hike in the Kahuku Unit of Hawai'i Volcanoes National Park
takes place Saturday. Photo by Sami Steinkamp of NPS
JOIN A GUIDED HIKE ALONG THE PALM TRAIL in the Kahuku Unit of Hawai'i Volcanoes National Park on Sunday, Oct. 22, from 9:30 a.m. to 12:30 p.m. The hike will also be offered on Nov. 26, Dec. 3 and Dec. 23.
     Palm Trail is a moderately difficult 2.6-mile loop traversing scenic pastures along an ancient cinder cone, with some of the best panoramic views Kahuku has to offer. Highlights include relics of the ranching era, sections of remnant native forest and amazing volcanic features from the 1868 eruptive fissures.
     For more, visit
nps.gov/HAVO
.
REGISTER KEIKI GRADES K-8 FOR AN EDIBLE HALLOWEEN CRAFT CLASS scheduled for Wednesday, Oct. 25, from 3:30 p.m. to 5 p.m. at the Pāhala Community Center. Register until Tuesday, Oct. 24. For more, call 928-3102.
HAWAIIAN OCEAN VIEW ESTATES ROAD MAINTENANCE BOARD OF DIRECTORS meet Tuesday, Oct. 24, at 10 a.m. at St. Jude's Episcopal Church in Ocean View. For more, call 929-9910.
INPUT FOR THE FUTURE OF HAWAI'I COUNTY TRANSPORTATION SERVICES, including the Hele On Bus that takes many Ka'ū residents to work, school and shopping, is invited at meetings outside Ka'ū. Those unable to attend may contact Ka'ū's County Council member Maile David at
maile.david@hawaiicounty.gov
or email the consultants at
heleonsuggestions@ssfm.com
.
     The final meeting is Tuesday, Oct. 24, from 5:30 p.m. to 7:30 p.m., at Aunty Sally Kaleohano's Lū'au Hale in Hilo.
     For more, call 808-356-1260.
EVENTS CELEBRATING WORLD FOOD DAY, presented by Hawai'i Island Food Alliance, KTA Super Stores, and The Kohala Center, are set for Tuesday, Oct. 24, at KTA locations - Puainako, Waimea, Waikoloa, and Keauhou - from 10 a.m. to 2 p.m.
     The Kohala Center describes the event as following, "Support local farmers showcasing their value-added products at this in-store event. Enjoy tastings, samples, and purchase a selection of products direct from farmers." The Kohala Center will distribute plant starts as supplies last. Farmers and value-added producers who would like to distribute samples at KTA for World Food Day, may contact Nicole Milne at nmilne@kohalacenter.org or 808-887-6411. See a short slide show called The State of Food Security and Nutrition in the World by the Food & Agriculture Organization of the United Nations.
REGISTER KEIKI AGES 6-12 FOR A BAT FINGER PUPPET class at Kahuku Park scheduled for Friday, Oct. 27, from 1:45 p.m. to 2:45 p.m. Register until Friday, Oct. 25. For more, call 929-9113.
SEN. RUSSELL RUDERMAN hosts a Town Hall Meeting at Volcano Art Center's campus on Wednesday, Oct. 25, from 6 p.m. to 8 p.m. at 19-4074 Old Volcano Road. A statement from the state Senator says it will be "An evening of legislative discussion and insight. Take advantage of this opportunity to weigh in on the 2018 Legislative Session. Additional information will be provided about participating directly in the legislative process."
CU HAWAI'I FEDERAL CREDIT UNION IS OFFERING EMPLOYMENT as a Member Service Representative in Nā'ālehu. CU Hawai'i seeks energetic individuals for full time positions who enjoy working with people and can provide professional, courteous and efficient service to valued members.
     The ideal candidate must be service oriented and possess good communication and computer skills. Cash handling and customer service experience is preferred. Must be able to work Saturdays. CU Hawai'i offers medical, drug, dental, vision and retirement benefits.
     Email, mail or fax application to: Attn: Human Resources, 476 Hinano Street Hilo, HI 96720, Fax: (808) 935-7793. Applications can be found online at 
cuhawaii.com/careers.html
.