Orchid lovers - from those with a budding addiction, to hobbyists - are invited to register for a upcoming workshop
at Volcano Art Center in which participants learn the art of building mini orchid displays. See story below.
Photo from hiloorchidsociety.org
HAWAI'I STATE ASSOCIATION OF COUNTIES, LED BY HAWAI'I COUNTY COUNCIL MEMBER DRU KANUHA, took its wish list to the opening of the Hawai'i Legislature this week, hosting a briefing for legislators statewide.
     Kanuha, who chairs the Hawai'i State Association of Counties and is running for the State Senate from west Ka'ū through Kona, said funding for affordable housing is sought through setting aside a small percentage of the state conveyance tax revenue. The money would go to each county's affordable housing fund to increase the supply of affordable housing units. The conveyance tax is levied when real estate is sold from one entity to another.
Dru Kanuha, Chair of the Hawai'i State
Association of Counties, took its agenda
to the Hawai'i Legislature this week.
     HSAC will also continue to advocate for a fairer share of the transient accommodations tax, also known as hotel tax, or TAT. The TAT was raised on Jan. 1, 2018, by a full percentage point, with all of the additional income earmarked for the rail system on O'ahu. HSAC's bill mirrors recommendations made by the State-County Functions Working Group to the Legislature to provide a 55-45 percent split of TAT revenue between state and counties.
     Kanuha said the HSAC also urges legislators to restore legal immunity for county lifeguards, which was taken away during the last legislative session. The counties seek to ensure civil liability protection for county lifeguards against frivolous lawsuits - a benefit provided to state lifeguards.
     Additional funding for ambulance service for Hawai'i and Kaua'i Counties is also on the HSAC agenda for the legislators. All the counties agree to support the ambulance funding for this island and Kaua'i.
     Another initiative would incentivize the installation of fire suppression systems in one and two-unit housing, not just condominium and apartment buildings.
To read comments, add your own, and like this story, see 
Facebook
. Follow us on 
Instagram
 and 
Twitter
. See our online calendars and our latest print edition at 
kaucalendar.com
.
ALLOWING BANKS TO ACCEPT MONEY FROM MARIJUANA BUSINESSES, in states where they are legal, is the goal of Hawai'i Attorney General Doug Chin. He and 18 other state attorneys general wrote to Congress this week. Chin co-chairs the bi-partisan National Association of Attorneys General Marijuana Working Group. He and Alaska Attorney General Jahna Lindemuth lead the hui of states, like Hawai'i, with legal medical cannabis, and states that have legalized marijuana for recreational use. Chin has also announced that he will run for Congress.
An image urging Congress to legalize banking for businesses in states
that have legalized marijuana.
Image from Doug Chin's congressional campaign - Facebook
     The attorneys general letter states:
     "We are a bipartisan group of state attorneys general who recognize that the states and federal government share a strong interest in protecting public safety and bringing grey market activities into the regulated banking sector. To address these goals, we urge Congress to advance legislation that would allow states that have legalized medical or recreational use of marijuana to bring that commerce into the banking system.
     "Twenty-nine states and several U.S. territories have legalized the medical use of marijuana. Among those, eight states and the District of Columbia, also allow recreational use by adults over 21 years of age. However, because the federal government classifies marijuana as an illegal substance, banks providing services to state-licensed cannabis businesses could find themselves subject to criminal and civil liability under the Controlled Substances Act and certain federal banking statutes. This risk has significantly inhibited the willingness of financial institutions to provide services to these businesses.
     "Despite the contradictions between federal and state law, the marijuana industry continues to grow rapidly. Industry analysts report that sales grew by 30% to $6.7 billion in 2016 and expect those totals to exceed $20 billion by 2021. Yet those revenues often exist outside of the regulated banking space. Businesses are forced to operate on a cash basis. The grey market makes it more difficult to track revenues for taxation purposes, contributes to a public safety threat as cash intensive businesses are often targets for criminal activity, and prevents proper tracking of large swaths of finances across the nation.
AG Doug Chin supports banking for the marijuana industry
and is running for Congress.
     "To address these challenges, we are requesting legislation that would provide a safe harbor for depository institutions that provide a financial product or service to a covered business in a state that has implemented laws and regulations that ensure accountability in the marijuana industry such as the SAFE Banking Act (S. 1152 and H.R. 2215) or similar legislation. This would bring billions of dollars into the banking sector, and give law enforcement the ability to monitor these transactions. Moreover, compliance with tax requirements would be simpler and easier to enforce with a better-defined tracking of funds. This would, in turn, result in higher tax revenue.
     "Prior Department of Justice guidance outlined how financial institutions could provide services to state-licensed marijuana businesses consistent with their obligations under federal law and created some space for the banking industry to work with those businesses, though challenges remained in many areas. The recent rescission of that guidance has made the need for Congressional action to get the cash generated by this industry into a regulated banking sector even more urgent.
     "Our banking system must be flexible enough to address the needs of businesses in the various states, with state input, while protecting the interests of the federal government. This includes a banking system for marijuana-related businesses that is both responsive and effective in meeting the demands of our economy. We look forward to working with you as you move forward in this process and lending our voice and expertise as you develop legislation."
Hawaiian Electric reports a surge of rooftop solar across the state.
Photo from HECO
To read comments, add your own, and like this story, see
Facebook
. Follow us on
Instagram
and
Twitter
. See our online calendars and our latest print edition at
kaucalendar.com
.
A SURGE IN SOLAR INSTALLED ACROSS THE ISLANDS IN 2017 was announced by Hawaiian Electric Co. on Thursday. More than 100 megawatts of solar were installed across the Hawaiian Electric Companies' service territories in 2017, a 19 percent jump from the previous year, "helping to move the state closer to a clean energy future," says a HECO statement.
     At the end of 2017, Hawai'i Electric Light Co., which serves the Big Island; Hawaiian Electric, which serves O'ahu; and Maui Electric, which serves Maui, Lana'i and Moloka'i, recorded 695 megawatts (MW) of cumulative installed solar, up 109 MW from 2016. The megawatts of solar added last year produce power equivalent to that used by about 32,000 homes.
     The solar total includes 82,000 private rooftop solar systems connected or approved, up 3.6 percent from 2016. It also includes the addition of the 27.6-MW Waiʻanae solar facility on O'ahu, which provides some of the state's lowest-priced renewable energy.
     Private rooftop solar installations and approvals as a percentage of total customers rose in 2017. By year's end, 19 percent of residential customers at both Hawaiian Electric and Maui Electric have rooftop solar installed or approved for installation, up from 16 percent at both companies in 2016. Hawaiʻi Electric Light residential customers held steady with 16 percent solar installed or approved, in both 2016 and 2017.
Large solar farms are contributing to a "clean energy future," reports
Hawaiian Electric. Photo from HECO
     "We ended 2017 with the largest year-to-year increase of installed solar since 2013 and we anticipate even higher numbers by the end of this year," said Jim Alberts, Hawaiian Electric senior vice president of customer service. "We're excited about new solar programs on the horizon such as Smart Export and CGS+, community-based renewable energy and new grid-scale projects underway on Oʻahu and Maui. And we continue to improve and streamline the rooftop solar application process for our customers."
     Since the launch of the online Customer Interconnection Tool last fall, customers have been able to submit online applications to install private rooftop solar under the Customer Self-Supply program. The online application tool is believed to be the first of its kind to provide a seamless process allowing customers to follow the status of their applications from start to finish.
     The companies anticipate continued growth in private rooftop solar and utility-scale projects. On Oʻahu and Maui, 135 MW produced by six separate projects will come online this year, including Hawaiian Electric's 20-MW solar facility at Joint Base Pearl Harbor-Hickam. "That project will produce the lowest-priced grid-scale solar in the state for the benefit of all Hawaiian Electric customers," says the HECO statement.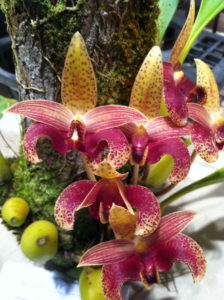 Photo from Volcano Art Center
To read comments, add your own, and like this story, see 
Facebook
. Follow us on 
Instagram
 and 
Twitter
. See our online calendars and our latest print edition at 
kaucalendar.com
.
SUPPORT FOR SENIOR HOUSING in Nā'ālehu will be raised, in part, through a spaghetti dinner at St. Jude's Church Friday at 5 p.m. in Ocean View. The drive for senior housing is led by 'O Ka'ū Kākou and its president Wayne Kawachi, who recently walked 100 miles to raise money. He said more than $55,000 has come in toward the $250,000 goal to purchase land for the senior housing at the site of the former Nā'ālehu Fruit Stand on Hwy 11. See 
www.okaukakou.org
 for more.
HOW TO MAKE A MINI ORCHID DISPLAY is a new event announced by Volcano Art Center. The class takes place Saturday, Jan. 27, from 9 a.m. to noon, at Ni'aulani Campus in Volcano Village.
     Orchid lovers - from hobbyists, to those with a budding addiction - are invited to join Hilo Orchid Society's Shelby Smith and Donna Barr for a
Build Your Own Mini Orchid Display
workshop. Smith and Barr will be on hand to answer questions and show tips, tricks and their orchid "know-how."
     The workshop involves education on orchids, as well as instruction in designing and building a mini orchid display. Different categories of mini orchid displays will be covered, including Garden, Flower Arrangement/Cut Flowers/Ikebana, and Keiki.
     Pre-registration is required. Volcano Art Center members pay $20 and non-members pay $25. The event description on
volcanoartcenter.org
 says "Not only will you learn a thing or two, but also, thanks to the Hilo Orchid Society, you'll be able to take home an orchid."
To read comments, add your own, and like this story, see 
Facebook
. Follow us on 
Instagram
 and 
Twitter
. See our online calendars and our latest print edition at 
kaucalendar.com
.
See public Ka'ū events, meetings, entertainment at
See Ka'ū exercise, meditation, daily, weekly events at
January print edition of The Ka'ū Calendar is
free to 5,500 mailboxes throughout Ka'ū, from Miloli'i
through Volcano. Also available free on stands throughout
K
A'Ū TROJANS SPORTS SCHEDULE
Girls Basketball: Friday, Jan. 19, @ Kealakehe.

Boys Basketball: Saturday, Jan. 20, Kohala @ Ka'ū.
     Tuesday, Jan. 23, @ Wai'ākea.
     Saturday, Jan. 27, HPA @ Ka'ū.

Boys Soccer: Saturday, Jan. 20, @ Honoka'a.
     Thursday, Jan. 25, @ Pāhoa.

Swimming: Saturday, Jan. 20, @ HPA.
     Friday, Jan. 26, @ Kamehameha (BIIF Championships, prelims).
     Saturday, Jan. 27, @ Kamehameha (BIIF Championships, finals).

Wrestling: Saturday, Jan. 20, @ Hilo.
     Saturday, Jan. 27 @ HPA.
A
GLITTER SNOWFLAKE
ARTS & CRAFTS ACTIVITY takes place at Kahuku Park (92-8607 Paradise Circle Mauka, Ocean View) on Friday, Jan. 19, from 2 p.m. to 3 p.m. The class is for keiki ages 6 to 12 years. Register Tuesday, Jan. 16, through Jan. 19. For more, contact Hawai'i County Parks and Recreation Technician Teresa Anderson at 929-9113 or visit 
hawaiicounty.gov/recreation
.
STEWARDSHIP AT THE SUMMIT
takes place Friday, Jan. 19, with volunteers removing invasive, non-native plant species that prevent native plants from growing in Hawai'i Volcanoes National Park. Interested volunteers should meet Paul and Jane Filed at Kīlauea Visitor Center at 8:45 a.m. Other opportunities this month take place Jan. 26. Free; park entrance fees apply. For more see 
nps.gov/HAVO
.
OCEAN VIEW COMMUNITY EMERGENCY RESPONSE TEAM meets Saturday, Jan. 20, from 10 a.m. to 1 p.m., in the Ocean View Community Center. For more, call 939-7033 or visit 
ovcahi.org
.
BUNCO & POTLUCK
 takes place Saturday, Jan. 20, starting at 6 p.m. in Discovery Harbour Community Hall. Bunco is a popular game played with nine dice, also known as Bonko or Bunko. Bring a dish to share. For more, contact Margie Hack at 541-954-8297. See more at 
discovery harbour.net
.
KĪLAUEA MILITARY CAMP'S CRATER RIM CAFÉ HOSTS A 
MONGOLIAN BBQ
 Saturday, Jan. 20, from 5 p.m. to 8 p.m., in Hawai'i Volcanoes National Park. KMC is open to all authorized patrons and
sponsored guests. Park entrance fees apply. For more, call 967-8356 or visit kilaueamilitarycamp.com.
A HULA KAHIKO PERFORMANCE FEATURES NA KUMU PELEHONUAMEA HARMON AND KEKOA HARMON with Hālau I Ka Leo Ola O Nā Mamo on Saturday, Jan. 20, from 10:30 a.m. to 11:30 a.m., at the kahua hula (hula platform) in Hawai'i Volcanoes National Park. Audience members are encouraged to bring sun/rain gear and sitting mats.
     A Nā Mea Hula demonstration follows, on the Volcano Art Center Gallery lānai, with Native Hawaiian Practitioner Ka'iulani Carvalho, from 11 a.m. to 1 p.m. For her Nā Mea Hula debut, Carvalho will present a workshop on the art of 'Ohe Kāpala, bamboo stamping.
     For more, see
volcanoartcenter.org
.
Join park rangers on a free 2.5-mile hike over rugged terrain Sunday. 
See event below. Photo by Julia Espaniola, National Park Service
POETS AND NON-POETS ALIKE ARE INVITED TO TAKE A 
DOCUMENTARY POETRY WORKSHOP
 with Author Susan M. Schultz on Jan. 20, from 9 a.m. to 1 p.m., at Volcano Art Center. Schultz teaches the techniques of documentary poetry - a form of poetry that seeks to document historical events, as well as expresses political, social or cultural issues. The class is $35 for Volcano Art Center members and $40 for non-members. Register online at 
volcanoartcenter.org
.
THE ART EXRESS
, a monthly class, is held Saturday, Jan. 20, from 10 a.m. to 3 p.m., at Discovery Harbour Community Hall. Learn something new or work on a forgotten project. Instructions will be on oil, acrylic, watercolor, and other mediums. Class size is limited to 25. For more, contact Meliha Corcoran at 319-8989 or himeliha@yahoo.com, or visit 
discoveryharbour.net/art-express
.
A FREE, MODERATELY DIFFICULT, GUIDED HIKE,
PEOPLE & LAND OF KAHUKU
, takes place on Sunday, Jan. 21, from 9:30 a.m. to 12:30 p.m., within Kahuku Unit of Hawai'i Volcanoes National Park. The 2.5-mile hike takes participants over rugged terrain and focuses on the area's human history. For more, visit 
nps.gov/HAVO
.
H.O.V.E. ROAD MAINTENANCE CORP. meets Tuesday, Jan. 23, at 10 a.m., in their office in Ocean View. For more, visit 
hoveroad.com
, or call 929-9910.
VOLCANO ASH FROM KĪLAUEA VOLCANO'S SUMMIT LAVA LAKE: from the mundane to the unexpected
, an
After Dark in the Park
presentation, takes place Tuesday, Jan. 23, at 7 p.m., in the Kīlauea Visitor Center auditorium of Hawai'i Volcanoes National Park. An illustrated lecture in which U.S.G.S. Hawaiian Volcano Observatory geologist Don Swanson demonstrates how systematic, long-term collections of ash erupted from the lava lake at Kīlauea's summit can lead to surprising but fundamental discoveries. Free; park entrance fees apply. For more, visit 
nps.gov/HAVO
.
HAWAI'I COUNTY COUNCIL committees meet Tuesday, Jan. 23, with a full council meeting on Wednesday, Jan. 24. Both meeting days take place in Kona. Ka'ū residents can participate via videoconferencing at Nā'ālehu State Office Building. Agendas at 
hawaiicounty.gov
.
HEATHER METTLER'S GLASSWORK - handblown, chiseled, and etched - is showcased in a new Volcano Art Center Gallery Exhibit: 
Passage and Place. 
The display will continue to be displayed until Sunday, Feb. 11, during normal gallery hours - 9 a.m. to 5 p.m., daily. Mettler's unique collection of glass explores the themes of migration, navigation, and immigration - how plants, animals, and people find their way to Hawai'i. Free; park entrance fees apply.