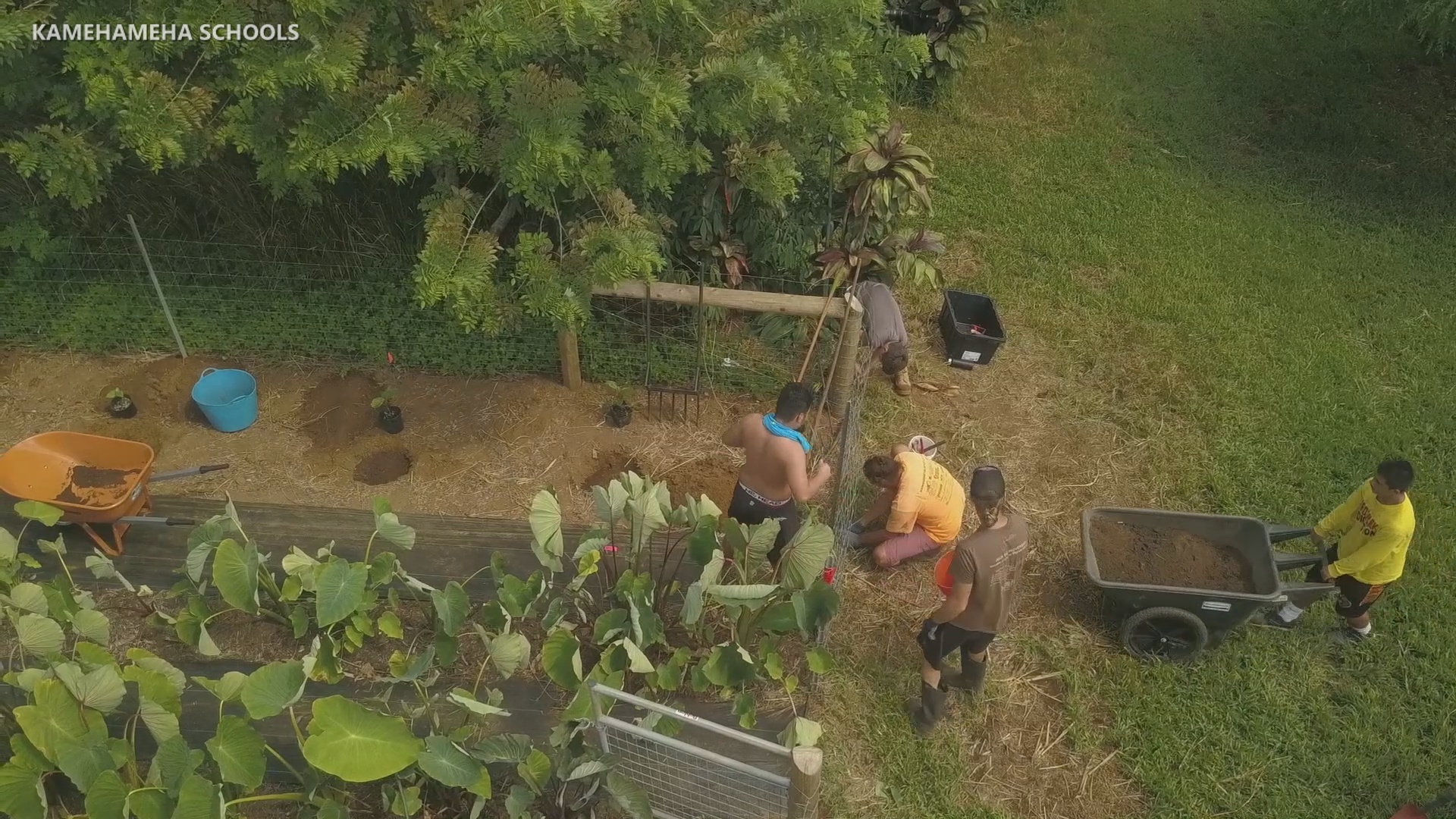 Modern technology and Native Hawaiian farming practices are under study to reshape agriculture in Hawaiʻi with help
from Kamehameha Schools and the Ulupono Initiative. Photo from Kamehameha Schools and Big Island Video News
REOPENING THE STATE PREMATURELY is a message of concern from west Kaʻū's and Kona's state Sen. Dru Mamo Kanuha. On Friday, Kauha said, "With the anticipation to reopen our state's economy, the recent spikes throughout the country have caused reason to pause and reflect. Throughout my week on Oʻahu, the reports for increased confirmed cases of COVID-19 have been disheartening and further supported the notion that in order to get things right – we need to do it right the first time.
State Sen. Dru Kanuha
     "There are no second chances to recover safely, should we reopen the State of Hawaiʻi prematurely. As of [Friday], the United States has set a record for newly confirmed COVID-19 cases for the third time in three days, eclipsing the 40,000 mark for the first time. And although we have not seen such drastic spikes on the Big Island, we must stay vigilant and do our part to flatten the curve.
     "Although the country has reeled various results in state's reopening - we can continue to set precedence in the fight to mitigate the spread of COVID-19 like Hawaiʻi's 14-day self-quarantine mandate. Therefore, please continue to incorporate general physical precautions into your daily routine – wear a face mask or covering when in public, and maintain proper sanitization and social distancing.
     "Over the course of this modified Legislative Session, in lieu of concerns with Unemployment Insurance and other state programs, please continue to contact my office at (808) 585-9385 or email
senkanuha@capitol.hawaii.gov
. Stay safe, connected, and prepared. Me ka haʻaʻa,"
To read comments, add your own, and like this story, see 
Facebook
. Follow us on 
Instagram
 and 
Twitter
. See our 
Fresh Food on The Kaʻū Calendar
 and our latest print edition at 
kaucalendar.com
.
ALARM FROM THE STATE HEALTH DIRECTOR sounded yesterday, when he released a survey showing a decrease among residents following safety guidelines during the COVID-19 pandemic.
     Bruce Anderson said that an increasing number of Hawaiʻi residents no longer see COVID-19 as much of a threat as they did in the earlier stages of the pandemic, according to a follow-up survey commissioned by the DOH.
Bruce Anderson, Director of state Department of Health
Photo from Hawaiʻi Public Radio
     The number of people who view the virus as a "very serious" health concern has fallen from 73 percent to 54 percent in less than two months. The initial survey was conducted from April 17 to 23, and the follow-up survey was conducted from May 28 to June 7.
     More alarming than the change in attitude, is its effect on prevention behaviors. While those who say they are social distancing "all of the time" has remained steady at 42 percent, the follow-up survey shows that fewer residents are following current recommendations 'most of the time' or 'part of the time.'
     "It's critically important for everyone to take COVID-19 seriously. We've seen a recent increase in cases. We cannot interpret the reopening of businesses, restaurants, parks, and other places as a license to let our guards down. Indeed, it is more important now than ever to adhere to prevention measures we know work," said Anderson. View the
baseline survey results here
.
To read comments, add your own, and like this story, see 
Facebook
. Follow us on 
Instagram
 and 
Twitter
. See our 
Fresh Food on The Kaʻū Calendar
 and our latest print edition at 
kaucalendar.com
.
BANK OF HAWAIʻI, with its branch in Pāhala, issued a statement on Friday about the continued reopening of businesses around the state.  "The number of COVID-19 cases in Hawaiʻi has begun to rise again. Even though businesses are reopening, that doesn't mean it's time to let your guard down. Patronize your favorite businesses, but do so safely, and always keep in mind that you want to limit the total number of people you encounter, especially in large groups."
     Bank of Hawaiʻi also announced that it has been selected as Best Bank by the readership of Honolulu Magazine. The bank will be featured in the June/July issue of the magazine as part of its 2020 Reader Choice awards. "We're honored to be recognized, and even more honored to be a part of this community, which has really shown the best of itself in these challenging past few months. Our commitment to customer service and convenient, safe banking remains unchanged... we're making it happen, from face masks in our branches to helpful guidance on COVID-19 measures to financial assistance programs for those with emergency needs."
Bank of Hawaiʻi urges people to distance and wear masks as the economy reopens. Photo from Bankoh
To read comments, add your own, and like this story, see 
Facebook
. Follow us on 
Instagram
 and 
Twitter
. See our 
Fresh Food on The Kaʻū Calendar
 and our latest print edition at 
kaucalendar.com
.
ULUPONO INITIATIVE AND KAMEHAMEHA SCHOOLS are investing in new ideas through the MahiX open innovation challenge to help diversify the economy and agriculture.
     Marissa Harman, KS asset management director for Hawai'i Island, said, "While Native Hawaiians have traditionally practiced sustainable farming, MahiX allows us to explore a modern approach to mahi'ai by pursuing innovative strategies and advancements in technology. Through this initiative, we can support our farmers and people on the front lines working to solve for resilient solutions to the modern challenges that farmers face in putting food on the table for Hawai'i families."
     Amy Hennessey, senior vice president of communications and external affairs for Ulupono Initiative, said, "Ulupono Initiative is committed to a more sustainable Hawai'i, which we work to achieve through our support of locally produced food, renewable energy, clean transportation, and better management of freshwater and waste. Especially now as our state sets out toward recovery, we see clearly how our dependence on importing 90 percent of our food and the just-in-time delivery model has left our community exposed. MahiX encourages innovation within the agriculture sector to introduce and test new ideas, products, methods, and partnerships tailored to Hawai'i's specific needs and values to help build a more self-sufficient and resilient food system."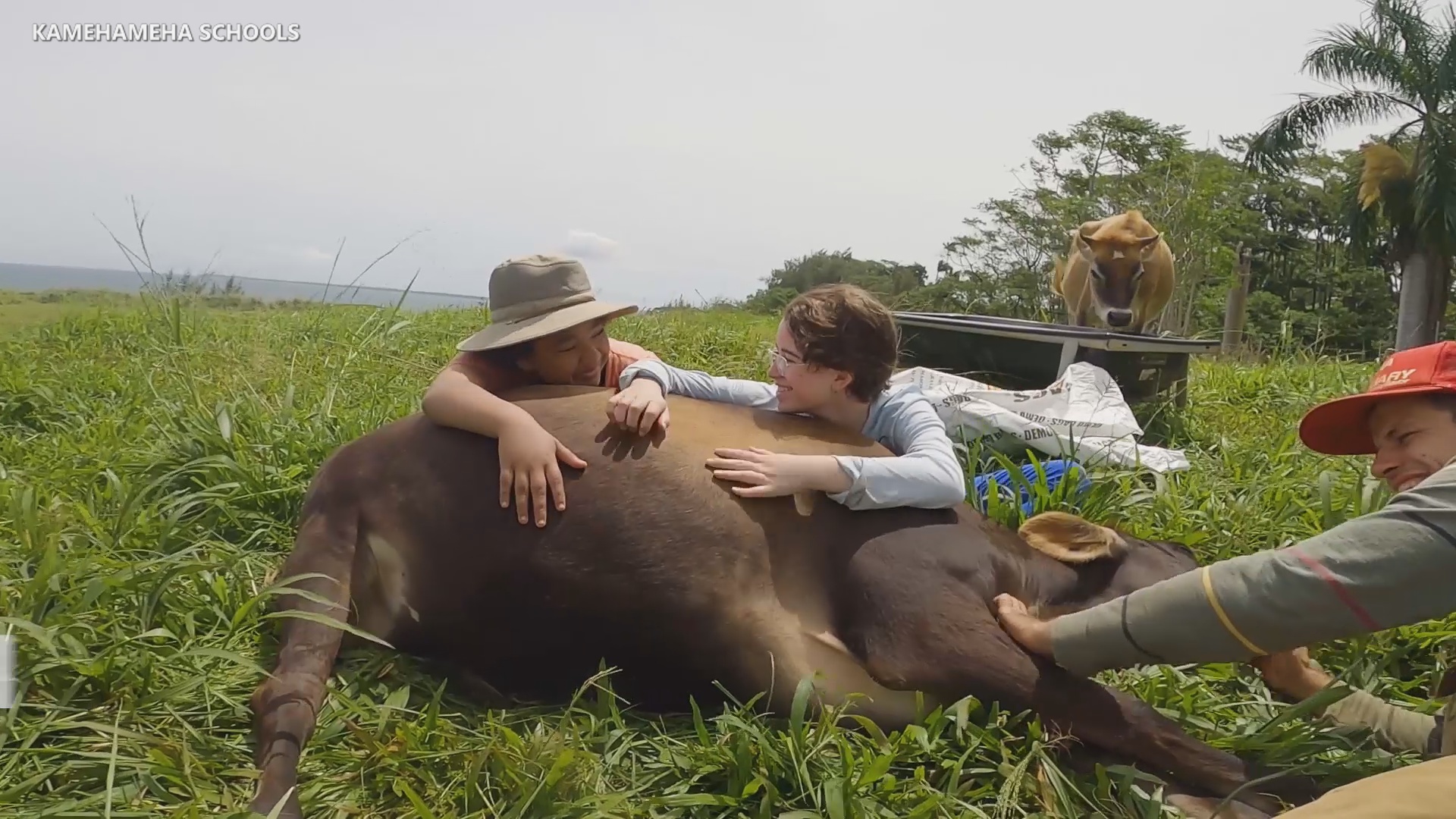 Ulupono Initiative commits to locally produced food. Photo from Kamehameha Schools and Big Island Video News
     A program to develop an agricultural housing policy will receive $5,000 with the Kohala Center helping to formulate an action plan. The goal is to facilitate housing for those involved in agricultural housing on Hawai'i Island. Nicole Milne, vice president of food and agriculture initiatives at The Kohala Center, said, "Disruptions caused by the coronavirus pandemic have prompted many of us in Hawai'i's agricultural sector to rethink how to build local food systems that are more ecologically, socially, culturally, and economically viable. We must begin crafting solutions that increase access to quality local food for all residents of Hawai'i, regardless of economic position. The investments made by KS in Hawai'i's mahi'ai and agricultural initiatives through the Mahi'ai a Ola program promote the development of food systems that are responsive to community and producer needs."
     A program to protect farms and ranches against theft will receive $20,000, for the SmartWater CSI system. The project is a partnership with Hawai'i County Prosecutor's Office to use technology to help protect farmers' assets against theft. It will include purchasing kits for farmers leasing KS agricultural land. A statement from Kamehameha Schools notes that in 2017, the Prosecutor's Office created an agriculture investigator program with the goals of reducing agricultural crime and helping to educate and protect the community.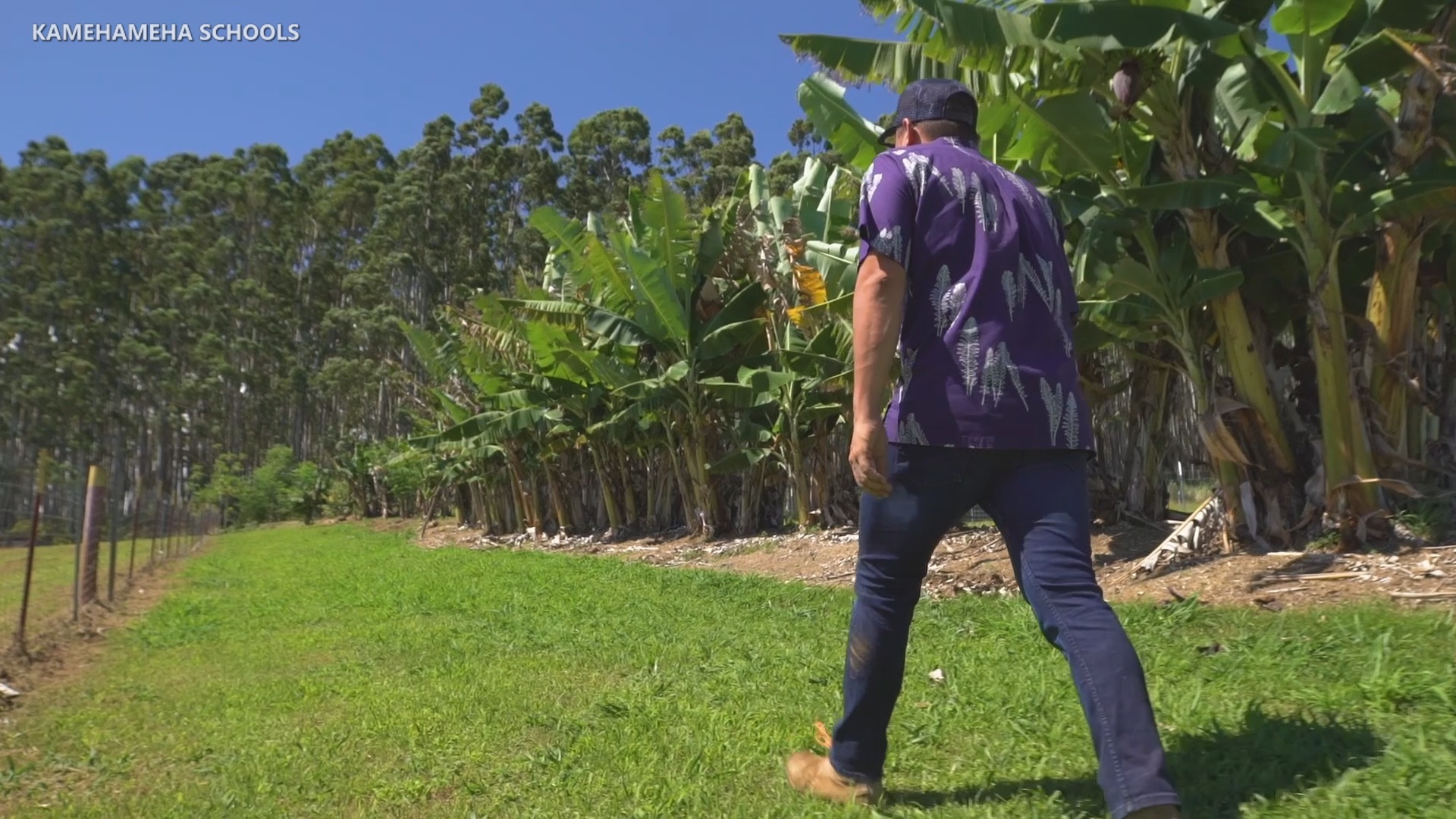 Agricultural theft prevention through technology is one of the Hawaiʻi Island programs funded by MahiX.
Photo from Kamehameha Schools and Big Island Video News
     Shane Muramaru, agricultural crimes investigator for the Hawai'i County Prosecutor's Office, who made presentations to Kaʻū Coffee farmers and ranchers in Kaʻū, said, "Agriculture plays a key role in our island's economy and its sustainability. Equipment and infrastructure thefts, and property damage on our farms and ranches, make it difficult for our agriculture community to produce a competitive product. The introduction of SmartWater CSI technology into the County of Hawai'i will deter thefts and support the Prosecutor's office in the investigation of agricultural crimes."
Hawai'i Island Farm Trails' 
smartphone application and website is another awardee of Kamehameha Schools and the Ulupono Initiaive. Hawaiʻi Island Farm Trails supports agritourism and connects farmers to visitors by promoting farm tours, farmers markets, and agricultural events on Hawai'i Island. The $5,000 in funding will help it expand to also include promotions of farm-to-table restaurants and community-supported agriculture.
     Kalisi Mausio, co-founder of Hawai'i Island Farm Trails project and co-founder of Kaivao Farm, said, "Our organization started because of Mahi'ai Matchup so we feel very honored to be selected for MahiX, and we are excited about the direction that we are taking together with KS in the agricultural industry. The project increases the capacity of agritourism and can directly benefit farmers in Hawai'i statewide, as well as farmers who are Kamehameha Schools lessees such as ourselves. As small-scale farmers, this project also provides options for us to diversify our farm products."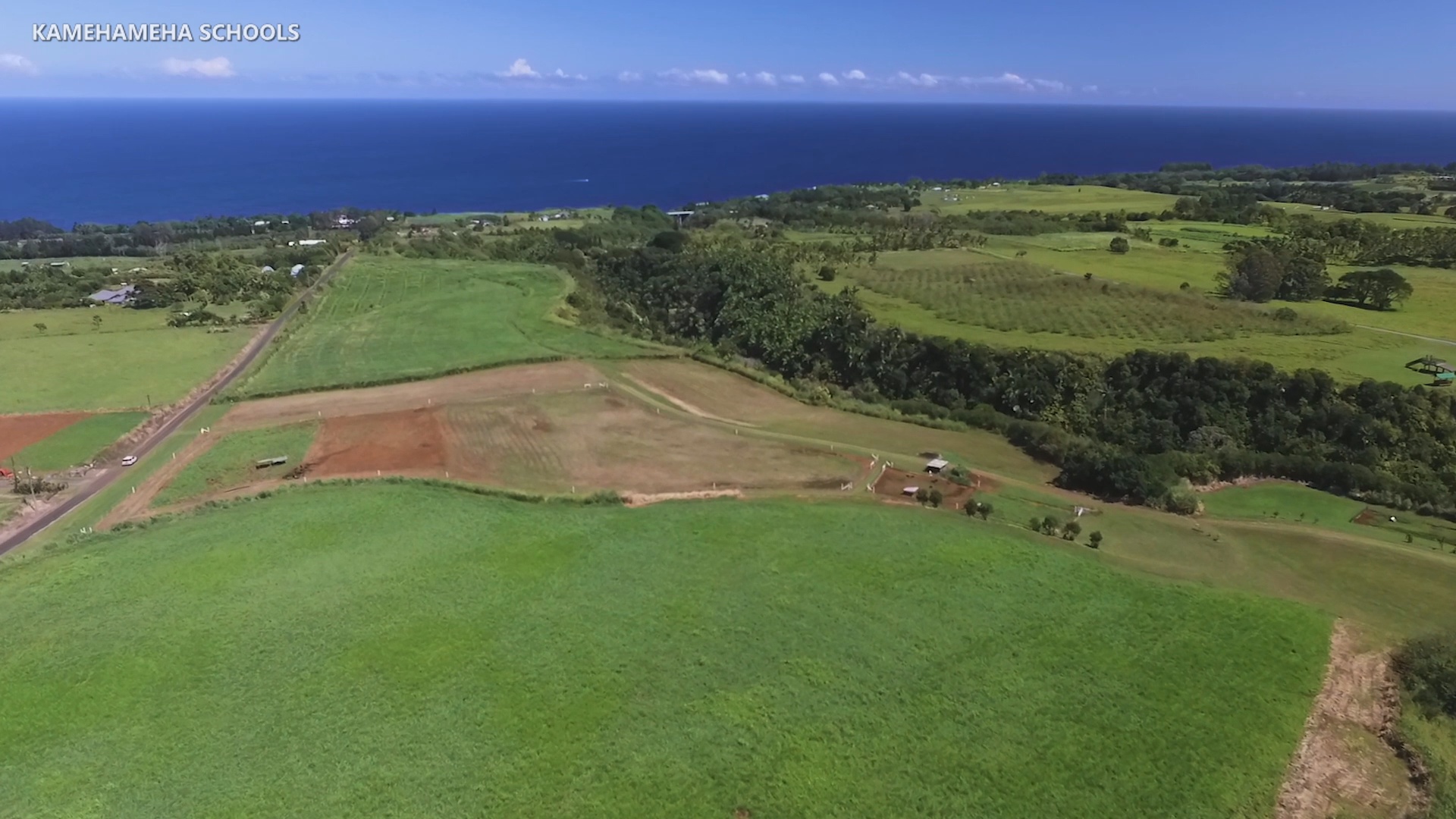 Hawaiʻi Island Farm Trails will receive $5,000 to expand the connectivity between farms, visitors, and diners.
Photo from Kamehameha Schools and Big Island Video News
Hāmākua Institute and Hawai'i Island Agriculture Partnership
is another awardee, which will conduct a feasibility study of developing an Agricultural Innovation Center in East Hawai'i to address food processing, storage, and distribution needs. This initiative will receive $20,000.
     The Hāmākua Institute facilitates the collective efforts of the HIAP to grow Hawai'i Island's agricultural sector. In addition to supporting the operations of HIAP, MahiX will fund Hāmākua Institute's work with HIAP's members to assess agricultural systems and identify key opportunities
to increase value-added processing infrastructure and services.
     Dennis Flemming, executive director of the Hāmākua Institute, said, "We are grateful to be a recipient of MahiX support as it gives us an exciting opportunity to leverage and complement the important work of so many farmers, agencies, educators and non-profits who are committed to our island's agricultural heritage and food sustainability. This will help Hawai'i Island Agriculture Partnership improve the viability and resilience of Hawai'i Island's farms and food supply for its communities."
     See a film on the Kamehameha Schools and Ulupono Initiative's MahiX ad recipients on 
Big Island Video News.
To read comments, add your own, and like this story, see 
Facebook
. Follow us on 
Instagram
 and 
Twitter
. See our 
Fresh Food on The Kaʻū Calendar
 and our latest print edition at 
kaucalendar.com
.
Camping at Halapē and other Volcanoes National Park sites remain closed. Reservations for County of Hawaiʻi
parks with camping will start at 5 p.m. Monday. Photo from National Park Service
ONLINE CAMPING RESERVATIONS FOR COUNTY SITES will reopen 5 p.m. this Monday, June 29. Mayor Harry Kim, through Emergency Rule No. 9, permits the County of Hawai'i Department of Parks & Recreation to open Gilbert Kahele Recreation Area, Kohanaiki Beach Park, and Spencer Park at 'Ōhai'ula Beach on July 13. Campgrounds to open Aug. 1 are Punalu'u Beach Park, Whittington Beach Park, Laupāhoehoe Point Beach Park, Kapa'a Beach Park, Māhukona Beach Park, and Ho'okena Beach Park.
     All campsites will reopen with reduced maximum numbers of campers allowed. Campers are reminded that Emergency Rule No. 9 closes all parks at 7 p.m. nightly to those without valid camping permits. Campers are personally responsible for disinfecting all common contact surfaces they use and must provide their own disinfecting supplies/accessories, and maintain minimum physical separation between all tents of 10 feet and between separate groups of campers of 20 feet.
     Online camping reservations for all sites, other than Ho'okena, may be accessed at
hawaiicounty.ehawaii.gov/camping/welcome.html
. Online camping reservations for Ho'okena Beach Park may be accessed
hookena.org/camping.html
.
     Reservations may also be made in person at the Department of Parks & Recreation's Hilo office, Aupuni Center, 101 Pauahi St, Suite 6 or West Hawai'i Office, West Hawai'i Civic Center, Building B, 74-5044 Ane Keohokālole Hwy.
     A statement from the county says, "Online registration is highly recommended in the interest of minimizing public contact consistent with the State's Act with Care phase of the State Roadmap to Recovery and Resilience plan. Persons wishing to register for camping in person are advised to wear a mask and observe physical distancing and other social policies and guidelines while in public settings." For more information, contact Department of Parks & Recreation at 961-8311.
To read comments, add your own, and like this story, see 
Facebook
. Follow us on 
Instagram
 and 
Twitter
. See our 
Fresh Food on The Kaʻū Calendar
 and our latest print edition at 
kaucalendar.com
.
Onset of COVID-19 cases in the last 28 days, by zip code. White is 
zero cases. Yellow is one to five cases. Light orange (not pictured) 
is six to ten cases. Dark orange (not pictured) is 11 to 20 cases. 
Red (not pictured) is 21 to 50 cases.
Hawaiʻi Department of Health map
NO NEW COVID-19 CASES ON HAWAIʻI ISLAND are reported today. There are three active cases on-island. The patients are being monitored by Department of Health. The case are all travel-related, says DOH.
     Oʻahu reported five new cases today and Kauaʻi reported one new case. The state's new case total is 236 in 22 days.
     Hawaiʻi Island recorded its three active cases over the last two weeks. All other 83 confirmed COVID-19 victims on Hawaiʻi Island recovered. Since the pandemic began, no one died here. There were two hospitalizations on-island; both patients have been released.
     Since the pandemic began, Oʻahu reported 613 cases, Kauaʻi 35, and Maui County 122. Sixteen victims are residents diagnosed while visiting other places. Statewide, 872 people were confirmed positive for the virus. Eighteen people died.
     The daily message from Hawaiʻi County Civil Defense Director Talmadge Magno says, "Many areas of the Country are experiencing increasing huge numbers of coronavirus, causing them to take steps backwards in opening of activities such as beaches and bars. Hawaiʻi remains in a good place due to our low numbers of active cases because of your following preventive measures. We must continue to follow the preventive measures of wearing face coverings, distancing, and cleanliness. It is all of our responsibility to keep Hawaiʻi safe. Thank you for listening. Have a safe weekend. This is your Hawaiʻi County Civil Defense Agency."
     In the United States, more than 2,510,151 cases have been confirmed – an increase of about 42,500 in about 24 hours. The death toll is over 125,539. Worldwide, more than 9.98 million have contracted COVID-19. The death toll is more than 498,710.
To read comments, add your own, and like this story, see 
Facebook
. Follow us on 
Instagram
 and 
Twitter
. See our 
Fresh Food on The Kaʻū Calendar
 and our latest print edition at 
kaucalendar.com
.
This time last year, Merle Becker of Aikane Plantation in Kaʻū organized riders for the Nāʻālehu Independence 
Day Parade 
on June 29 and the Fourth of July Parade in Volcano.
 Photo by Ron Johnson
Kaʻū Life: The Way We Were Last Year
This time last year, Kaʻū paniolo made lei for horses and riders for Nāʻālehu Independence Day on June 29 and Volcano Village parade on July 4. Merle Becker of Aikane Plantation organized wahine riders for both parades. ʻO Kaʻū Kākou handled the lineup and carried a huge Independence Day banner. Farmers decorated their four-wheelers to be patriotic. Local firefighters gave an extra shine to their trucks.
     The Nāʻālehu event was followed by food and entertainment at the field behind the community center. This year, the parade is canceled during the COVID-19 pandemic, but OKK will host Independence Day at its Nāʻālehu Market, with free drive-thru and on-site food, goodies, and a chance to win a prize. The date is July 4 from 10 a.m. to 2 p.m.
     Last year on July 4, the Volcano Parade ended with food and entertainment at Cooper Center. This year, the parade is canceled but Volcano Art Center will hold a Fourth of July celebration at its Niʻaulani Campus. VAC's Board of Directors - along with community partners Volcano Rotary, Cooper Center, and Experience Volcano - are teaming up to celebrate the community. From 10 a.m. to 2 p.m., or as long as supplies last, VAC in Volcano Village will pass out free grilled hot dogs and hamburgers. Chicken & Ribs plates are available for purchase and must be reserved and purchased online by Friday, July 3 at
volcanoartcenter.org/classes-and-workshops/purchase-tickets-to-vac-events/
. Call 967-8222 for more.
OKK led the Nāʻālehu Independence Day Parade with its huge banner last year. This year OKK hosts food and music
from 10 a.m. to 2 p.m. at its Na`alehu Market, next Saturday, July 4. Photo by Peter Anderson
EVENTS
After-School All-Stars Free Virtual Summer Program
runs through Friday, July 17. For students going into 6th, 7th, or 8th grade. Classes offered are cooking, baking, fitness, arts & crafts, sports, gardening, and more. Every activity earns one entry in a prize drawing. All materials provided; pick on Monday mornings, 7:30 a.m. to 8 a.m., in Volcano, Pāhala, Nāʻālehu, or Ocean View. Register at
tinyurl.com/KauSummer2020
. For more info, contact Chrysa Dacalio, kau@asashawaii.org, 808-561-3710.
Feedback from Parents and Guardians of Kaʻū High and Pāhala Elementary School Students
 is requested by Principal Sharon Beck: "As we plan for the opening of the 2020-21 school year, we would like to gather 
feedback
 from our parents/guardians about what that might look like for our students." Deadline is 
June 30
: 
KHPES Parent Survey: Planning for the 2020-21 School Year
.
Sponsors Needed to Feed Keiki
 in low-income communities during the summer. Schools, public agencies, churches, and private nonprofit organizations are eligible to apply for the U.S. Department of Agriculture Summer Food Service Program. Sponsoring organizations receive reimbursements for serving healthy meals and snacks at approved sites to youth who are 18 years old and younger. Applications will be accepted until Tuesday, 
June 30
. Contact Daniel Sutcharitkul at 808-587-3600 or daniel.sutcharitkul@k12.hi.us with questions or to apply. Visit 
hcnp.hawaii.gov
 for more information.
Enter the RevʻULUtion Student Art Contest
 by Tuesday, 
June 30
. Hawaiʻi ʻUlu Cooperative invites all students residing in Hawaiʻi in PreK through 12th grades to create and submit original artwork that will be featured in an upcoming traveling art exhibit, a 13-month calendar, and across the internet on the cooperative's partners websites and social media. The purpose of the contest is to raise awareness of ʻulu as a "resilient cultural and agricultural resource" that is a "viable option for increasing food security and self-sufficiency across the 
Hawaiian Islands
.
     Each student may submit as many pieces as they wish on 8.5 by 11 paper, in the landscape (horizontal) orientation. Any art medium, except computer graphics and photographs, may be used as long as the artwork is flat and can be scanned. Each entry must be accompanied by a short – 75 words or less – explanation of ʻUlu's Place in Hawaiʻi: Past, Present, and Future, and an entry form.
     Visit 
eatbreadfruit.com/pages/artcontest
 for more information and to submit an entry.
Apply for Energy Assistance
 through 
June 30
 for help to pay energy bills. Low-Income Home Energy Assistance Program Energy Credit Assistance Program assists eligible people with a one-time payment towards their electric or gas bill. See 
humanservices.hawaii.gov/bessd/liheap
.
Independence Day Community Barbecue
, Saturday, 
July 4
 from  to , or as long as supplies last at Volcano Art Center Niʻaulani Campus in 
Volcano
Village
. Free grilled hot dogs and hamburgers, chicken and ribs plates available for purchase. 
volcanoartcenter.org/events
, 967-8222
Celebrate 4th of July with OKK
 at its Market space in Nāʻālehu from  to  on Saturday, 
July 4
. ʻO Kaʻū Kākou will offer shave ice, hot dogs, and watermelon, free to the public, either grab-and-go or during the event. Attendees must observe social distancing, sanitize hands at the entry, and wear face masks. OKK will thank Brawny for naming OKK Pres. Wayne Kawachi a Brawny Giant and donating $10,000 to the non-profit group.
Dine In or Grab-and-Go at Crater Rime Café
 in 
Kīlauea
 Military Camp on Saturday, 
July 4
. Ready-to-Go Family BBQ Special will be served from 10 a.m. to 1 p.m. and includes 8 BBQ Pulled Pork Sandwiches, 16 pieces of Local Style Fried Chicken, 8 pieces of 6 oz. Corn on the Cob, 2 lbs. of Coleslaw, 2 lbs. of Steamed Rice, and 2 lbs. of Mashed Potatoes, all for $55.95. Individual To-Go Lunches will also be available for purchase at $12.95 per person. Reservations for dine-in and take-out are required, call 967-8356. KMC is open to all authorized patrons and sponsored guests. Park entrance fees apply.
Apply for Small Grants
 to improve access to healthy foods in underserved areas, create and preserve quality jobs, and revitalize low-income communities through the Healthy Food Financing Initiative, urges The Kohala Center. Deadline to submit a letter of interest is Friday, 
July 10
. Visit the program 
website
 or refer to this 
fact sheet
 for more information.
Zentangle with 
Lydia
 Meneses
, Saturday, 
July 11
,  at 
Volcano
Art
Center
 Niʻaulani Campus in 
Volcano
Village
. 
volcanoartcenter.org/events
, 967-8222
Grow Food From Wood: Mushroom Cultivation with Zach Mermel
, separate workshops on Saturday, 
July 18
 and Sunday, 
July 19
 from  to  at Volcano Art Center Niʻaulani Campus in 
Volcano
Village
. 
volcanoartcenter.org/events
, 967-8222
Strategies to Jump-Start Your Writing
 by Jacquolyn McMurray and Kristin Wolfgang, a virtual workshop via Zoom, will be held Saturday, 
July 25
 from  to . "How long has writing been on your bucket list? Are you ready to make 2020 the year you finally get started or restarted? This class is perfect for all writers seeking new inspiration and strategies." 
volcanoartcenter.org/events
, 967-8222
ONGOING
Free Breakfast and Lunch for Anyone Eighteen and Under
 is available at Kaʻū High & Pāhala Elementary and at Nāʻālehu Elementary on weekdays (no holidays) through Friday, 
July 17
. Each youth must be present to receive a meal. Service is drive-up or walk-up, and social distancing rules (at least six feet away) are observed. Breakfast is served from 7:30 a.m. to 8 a.m., lunch from 11:30 a.m. to noon. Food is being delivered on Wednesdays to students in Green Sands, Discovery Harbour, and Ocean View.
St. Jude's Episcopal Church Soup Kitchen
 is open, with a modified menu and increased health & safety standards, every Saturday from 9 a.m. to 1 p.m. Hot showers, the computer lab, and in-person services and bible studies are suspended. Services are posted online on Sundays at 
stjudeshawaii.org
.
The Food Basket
 provides food to those in need. See 
hawaiifoodbasket.org
 to verify dates and times. Nāʻālehu's final ʻOhana Food Drop is Wednesday, 
July 8
 from  until pau – supplies run out – at Nāʻālehu Shopping Center. Go to Volcano's Cooper Center at 19-4030 Wright Road on Wednesday, 
July 22
, 10 a.m. until pau. Ocean View residents can go to The Food Basket's pantry at St. Jude's the last Tuesday of the month, 
July 28
.
On-Call Emergency Box Food Pantry
 is ope
n at Cooper Center
 Tuesdays through Saturdays from 11 a.m. to noon. Call 967-7800 to confirm.
Pāhala and Nāʻālehu Public Libraries are Open for Pick-Up Services Only.
 Nāʻālehu is open Monday, Wednesday, and Friday from 9 a.m. to noon and 2 p.m. to 4 p.m. Pāhala is open Tuesday and Thursday from 9 a.m. to noon and 2 p.m. to 4 p.m. Library patrons schedule Library Take Out appointment times to pick up their hold item(s) at their favorite libraries by going to 
HSPLS Library 
Catalog
 and placing a hold on any item(s) they want to borrow, or they may call their favorite library branch to place a hold with the library staff. After receiving a notice that item(s) are ready for pick up, patrons schedule a Library Take Out time at 
picktime.com/hspls
. For patrons who placed holds during the closure, their item(s) are ready for pickup after the patron schedules a Library Take Out appointment. For more information, visit 
librarieshawaii.org
.
Free Book Exchanges
 at the laundromats in Ocean View and Nāʻālehu are provided by Friends of the Kaʻū Libraries. Everyone is invited to take books they want to read. They may keep the books, pass them on to other readers, or return them to the Book Exchange to make them available to others in the community. The selection of books is replenished weekly at both sites.
Avocado Growers Survey Open
: Help identify opportunities for expanding the local avocado industry, to assist local farmers, buyers, and agencies develop strategies to bolster Hawaiʻi's avocado industry, says Hawaiʻi Farmers Union United. Farmers and farm names will be kept anonymous. Results will be shared publicly. Survey completion gives option to register to win a $200 gift certificate to Home Depot. For a hard copy of the survey, email: 
info@growfruithawaii.com
. Take the survey: 
surveymonkey.com/r/Hawaiiavosurvey2020
.
Learn About Hawaiʻi's History & Culture
 through the 
Papakilo Database
, a resource developed by The Office of Hawaiian Affairs. The 
Kahalo
Center
 says database consists of "collections of data pertaining to historically and culturally significant places, events, and documents in Hawaiʻi's history. The purpose of this educational online repository is to increase the community's ability to preserve and perpetuate cultural and historical information and practices." See 
papakilodatabase.com
.
Begin Learning Basics of Organic Farming
 from two free modules of a virtual training program. Accessible 
online
, additional modules will be added. The course is presented by the Organic Farming Research Foundation, the University of California Sustainable Agriculture Research & Education Program, and 
California
Polytechnic
State
University
 in 
San Luis Obispo
.
Volcano Art Center
 Niʻaulani Campus in 
Volcano
Village
 is open Monday through Friday, , closed Saturday and Sunday. The Gallery in Hawaiʻi Volcanoes National Park is open Wednesday through Sunday, 9 a.m. to 5 p.m., closed Monday and Tuesday. Virtual Shopping Appointments are offered at Volcano Art Center locations. Via Skype or FaceTime, a VAC associate helps customers browse the selection of artwork up close, and gives personalized tips and recommendations to help customers "find that perfect piece of locally made artwork, wherever you are in the world!" Book an appointment online for $5 and VAC staff will help schedule a date and time at 
volcanoartcenter.org/shop
. Shop the online gallery 24/7. Orders are shipped as regularly scheduled. Free local pickup is available.VAC now offers a 
Virtual Classroom
, which features over 90 videos. Visit 
volcanoartcenter.org
 for more.
Guided Nature Walks through Nature Trail & 
Sculpture
Garden
, Mondays, 9:30 a.m. at VolcanoArt Center Niʻaulani Campus in Volcano Village. No reservations for five or fewer – limited to ten people. Free; donations appreciated. Email programs@volcanoartcenter.org. Garden is open to walk through at one's own pace, 10 a.m. to 4 p.m. weekdays. Free. 
volcanoartcenter.org/events
, 967-8222
Exhibition Mixed Flock: Prints by Margaret Barnaby and Pottery by Emily Herb
 has been held over through Aug. 8. Also available to 
view online
, view the exhibition in person the Gallery in the Park during normal gallery hours, , Wednesday through Sunday. Free. The exhibition features two prominent female artists from 
Volcano
Village
 "who find deep inspiration in Hawaiʻi's natural environment and specifically the native bird populations found within it." 
volcanoartcenter.org/events
, 967-8222
Yoga with Emily Catey Weiss
, Mondays, Wednesdays, and Fridays, 8 a.m. to 9 a.m. at Volcano ArtCenter Niʻaulani Campus in Volcano Village. Advanced registration required; $5 per class. 
volcanoartcenter.org/events
, 967-8222
Ocean View Swap Meet is open at Ocean View makai shopping center, near Mālama Market. Hours for patrons are  Saturday and Sunday. Vendor set-up time is  Masks are required for all vendors and patrons.


ʻO Kaʻū Kākou Market in Nāʻālehu 
is open three days per week – Monday, Wednesday, and Friday – from 8 a.m. to noon. The goal is no more than 50 customers on the grounds at a time. Vendor booths per day are limited to 25, with 30 feet of space between vendors. Masks and hand sanitizing are required to attend the market. Social distancing will be enforced.
     A wide selection of fresh vegetables and fruits, prepared take away foods, assorted added value foods, breads and baked goods, honey, cheese, grass-fed beef, fish, vegetable plants, masks, handmade soaps, coffee, and more are offered on various days. Contact Sue Barnett, OKK Market Manager, at 808-345-9374, for more and to apply to vend.
Volcano Farmers Market
 at Cooper Center on Wright Road, off of Old Volcano Highway, is open on Sundays from 6 a.m. to 10 a.m., with much local produce, island beef, and prepared foods. Call 808-967-7800.
Enroll in Kua O Ka Lā's Hīpuʻu Virtual Academy
 for school year 2020-2021, grades four through eight. The Hawaiian Focused Charter School teaches with an emphasis on Hawaiian language and culture. The blended curriculum is offered through online instruction and community-based projects, with opportunities for face-to-face gatherings (with precautions), in an "Education with Aloha" environment.
     Kua O Ka Lā offers a specialized program that provides students with core curriculum, content area, and electives in-keeping with State of Hawaiʻi requirements. Combined with Native Hawaiian values, culture, and a place-based approach to education, from the early morning wehena – ceremonial school opening – Kua O Ka Lā students are encouraged to walk Ke Ala Pono – the right and balanced path.
     The school's website says Kua O Ka Lā has adopted Ke Ala Pono "to describe our goal of nurturing and developing our youth. We believe that every individual has a unique potential and that it is our responsibility to help our students learn to work together within the local community to create a future that is pono – right." The school aims to provide students with "the knowledge and skills, through Hawaiian values and place-based educational opportunities, that prepare receptive, responsive, and self-sustaining individuals that live 'ke ala pono.'"
     See 
kuaokala.org
 to apply and to learn more about the school. Call 808-981-5866 or 808-825-8811, or email info@kuaokala.org for more.