The bridge entrance to Nahuku (Thurston Lava Tube) is one of the most popular, and most photographed, destinations in Hawai'i Volcanoes National Park.  See story below. Photo by Janice Wei, National Park Service
MEDICAID-FOR-ALL is a new bill that Sen. Brian Schatz is preparing to introduce into the U.S. Senate. He trumpeted on Thursday that "Last month, we won a historic victory against the Republicans' plan to throw millions of people off their health insurance in order to give tax breaks to the wealthiest among us." Schatz also warned, "The Republicans still have a majority in the Senate. If we're ever going to move forward and make progress on health care, we need to go on the offensive and present ideas now on how to improve Obamacare so we're ready when that chance comes." Schatz is asking his Hawai'i constituents to add their names to become co-sponsors of his
Medicaid-For-All bill.
Sen. Brian Schatz
     His proposal has drawn coverage this week in
New York Magazine
and
Slate
.
Vox
wrote that "Sen. Schatz's new health care idea could be the Democratic Party's future."
     Said Shatz, the proposal "will allow millions of Americans to get the coverage they need without going broke." He explained that the Medicaid-For-All bill gives states the option to expand their Medicaid programs to uninsured Americans wishing to purchase coverage.
     "That means millions of Americans who already rely on Medicaid will get to stay on their insurance and people who are currently making too much to qualify will be able buy in and join the program for the first time. And it would make Medicaid a public option which would put private insurance companies in competition with a much cheaper and effective Medicaid system."
     Schatz conceded that "Our goals are ambitious. What we are trying to do is to come up with a plan that will get the most coverage at the lowest price for the most Americans. If we are going to be successful, we will need everyone to stay engaged and demand better health care."
CLOSING PORTIONS OF THURSTON LAVA TUBE, Nahuku, and its rainforest loop trail will start Tuesday, Sept. 5, for approximately two weeks while Hawai'i Volcanoes National Park maintenance workers replace the electrical conduit and lighting system.
     During repairs, the public will be able to explore the open section of the lava tube, which is one of the most popular destinations in the park. Visitors are advised to bring their own light source (cell phone lights are adequate). The nearby restrooms will remain open.
Interior of Nahuku, Thurston Lava Tube, with the lights on.
Photo from National Park Service
     The new energy-efficient lighting system will simultaneously increase visitor safety by illuminating the interior, and protect the cultural integrity of the 'ana (cave) by inhibiting the growth of non-native plant species, says a statement from Hawai'i Volcanoes National Park.
     The back portion of Nahuku will be closed first, including the stairs leading out of the lava tube and the north section of rainforest trail. Visitors will be able to access the front section of the lava tube via the bridge entrance, and return the same way. Once work is complete in the back portion, work on the front section will start and visitors can access the rear portion of Nahuku via the north trail and stairs.
     The public will be notified of any updates. The park regrets any inconvenience to the public, said the HVNP statement.
Nahuku - Thurston Lava Tube and its lush rainforest trail are popular features in the park, located near the summit of Kilauea volcano off Crater Rim Drive.
     The lava tube was formed by a vigorous stream of magma that erupted from Kilauea and crusted over about 550 years ago. When the magma source was exhausted, a long, hollow tunnel was left behind. The native rainforest surrounding Nahuku is managed by the park as a Special Ecological Area, and is home to endemic plant, bird and insect species. Visitation is heaviest between 10 a.m. and 2 p.m., and parking is limited to 30 minutes.


To read comments, add your own, and like this story, see 
Facebook
. Follow us on
Instagram
and
Twitter
.
THE UNIVERSITY OF HAWAI'I RECOMMITTED ITSELF to Mauna Kea telescope park management on Thursday, its Board of Regents directing the university administration to "build a global model of harmonious and inspirational stewardship that is befitting of Mauna Kea."
      Other support for continued use of acreage on Mauna Kea for astronomy, education and research has come from Gov. David Ige who issued a statement saying, "I am pleased that the University of Hawai'i has affirmed its intention to take action to strengthen the collaborative stewardship of Mauna Kea and its resources. I look forward to working with the university and its partners to make meaningful changes that further contribute to the co-existence of culture and science on this special mountain."
Rendering of the Thirty Meter Telescope planned for Mauna Kea.
Image from TMT
    Mayor Harry Kim weighed in earlier and proposed "a peace park."
     The Regents' resolution comes less than a month before a Hilo public hearing, Sept. 20, before the state Board of Land & Natural Resources to consider a recommendation to provide the Thirty Meter Telescope with a land use permit to build the project.
     The resolution approved by the Regents onThursday calls for the university to retain 1,288 acres for the telescopes on the mountain and return 10,000 acres of the 11,288-acre Mauna Kea Science Reserve to the state for management. The resolution also calls for the university to "meaningfully increase the engagement" of local students in celestial navigation and astronomy.
       Opponents of the Thirty Meter Telescope and other elements of the telescope campus testified against the resolution. Kamana Beamer, Univeristy of Hawai'i associate Professor of Hawaiian studies, called the resolution "ingenuous." He said one major aspect of the opposition to the Thirty Meter telescope is "scale of development" and speculated that the Thirty Meter will be the largest telescope only until the next generation telescope is developed. Opponents said that Mauna Kea is a sacred place and should not be furrther developed, even for scientific purposes.
     See more on the Thirty Meter Telescope at
www.tmt.org
.
To read comments, add your own, and like this story, see 
Facebook
. Follow us on 
Instagram
 and 
Twitter 
.   
REGISTER KEIKI, grades K-8, until August 29, to make a beaded key chain on Wednesday, August 30, from 3:30 p.m. to 5 p.m. at Pahala Community Center. Call 928-3102 for more.
DISCOVER HAWAIIAN GODDESSES HI'IAKA & PELE and the natural phenomenon they represent on a guided, moderate, one-mile hike through the Kahuku Unit of Hawai'i Volcanoes National Park tomorrow, August 26, from 9:30 a.m. to 11:30 a.m. Free. Visit
ups.gov/havo
for more.
FEARLESS ABSTRACT PAINTING, a class in which Samantha DaSilva will share her unique method of painting, takes place tomorrow, August 26, from 10 a.m. to 4 p.m. at the Volcano Art Center. $90 plus $15 supply fee per person. Call 967-8222 for more or visit
volcanoartcenter.org
.
     Born in Brazil, DaSilva is a professional artist, living and working on the Big Island of Hawai'i, who, according to her website, was "influenced at an early age through her copiously artistic family. Her grandmother, a portrait artist, her aunt, an accomplished jewelry designer, and her mother, a watercolorist, all influenced Samantha to experiment with a variety of mediums." Her bio reads that, "beneath her amiable personality burns a fervent fire to express life through art and dialogue… Her passion for abstract painting has manifested itself through prolific expressions of art on canvas and varying media. Since '08, Samantha's work has been exhibited in over 100 group and solo shows across North America. As an educator, Samantha has instructed at various public & private institutions across North America." For more about Samantha DaSilva, visit
samanthadasilva.com
.
FREE FIRST ANNUAL MALAMA NA KEIKI FESTIVAL IS SATURDAY at the Na`alehu Community Center and baseball field from 9 a.m. to 1 p.m. The event is organized by Hui Malama Ola Na 'Oiwi. It offers a wide variety of maternity and new family mini-educational classes; clinical health screening for expectant mothers, keiki, and 'ohana; keiki fun activities; keiki performances; live music; and healthy local-sourced food.
     The festival is made possible through support of the Office of Hawaiian Affairs. "Hui Malama strives to help participants develop a strong network of prenatal and postnatal support, and learn best practices to prevent potential health problems, raise healthy happy children, strengthen family, and fulfill OHA and Hui Malama's shared goal of a strong and healthy Hawaiian nation," says a statement from the organization. For more details about the event and Hui Malama, visit
hmano.org
.
To read comments, add your own, and like this story, see 
Facebook
. Follow us on 
Instagram
 and 
Twitter 
.
START VIEWING LIVE LONG AND PROSPER MIGHTY 'OHI'A, daily 9 a.m. to 5 p.m. from tomorrow, August 26, through October 8, at Volcano Art Center Gallery in Hawai'i Volcanoes National Park with paintings and illustrations by John D. Dawson. The artworks focus on the highly variable display of 'ohi'a lehua trees found within the park. Gallery viewings are free, though park entrance fees apply.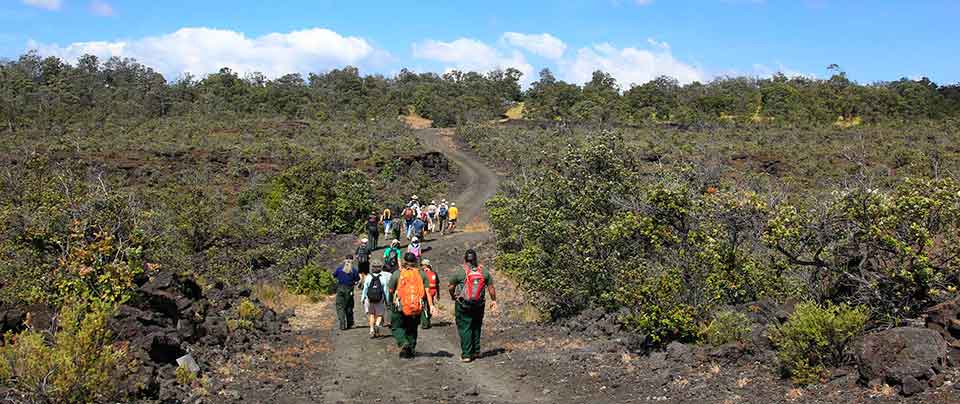 Hawai'i Volcanoes National Park Kahuku Unit, 1868 lava flow. Photo from nps.gov/havo
NATURE & CULTURE: AN UNSEVERABLE RELATIONSHIP, a moderate hike approximately 2 miles takes place Sunday, August 27, from 9:30 a.m. to 11:30 a.m. at Kahuku Unit of Hawai'i Volcanoes National Park. Palm Trail hikers visit a place where catastrophic change (hulihia) and subsequent restoration (kulia) can be observed as the land transitions from the 1868 lava flow with its pioneer plants to deeper soil with more diverse and older flora. Learn about native plants that play a vital role in Hawaiian culture. Free. Visit
nps.gov/havo
for more.
HOVE ROAD MAINTENANCE BOARD OF DIRECTORS meet at 10 a.m. on Tuesday, August 29, at St. Jude's Episcopal Church. For more details call 929-9910.
KA'U FOOD PANTRY, a non-profit organization that aims to provide each family in need with three days of food, will be handing out food again on Tuesday, August 29, from 11:30 a.m. to 1 p.m. at St. Jude's Episcopal Church in Ocean View. Most of the food comes from Food Basket of Hawai'i, Inc. in Kona. Ka'u Food Basket pays them a small handling fee for the food they provide.
Pick up the August edition of 
The Ka`u Calendar 
delivered
free to 5,500 mailboxes throughout Ka`u, from Miloli`i 
through Volcano. Also available on stands throughout
the district. See it online at 
www.kaucalendar.com