Lowering a borehole tiltmeter into a ten-foot deep hole on Mauna Loa's Southwest Rift Zone.
See Volcano Watch below. Photo from USGS
HARVESTING THE EUCALYPTUS TREE FARM ABOVE PAHALA may experience a delay. Life of the Land has lodged an appeal to the Hawai'i Supreme Court to reverse the Public Utilities Commission ruling in favor of the HELCO-Hū Honua biomass power purchase agreement. 
       Hū-Honua which plans to generate electricity from a wood burning plant in North Hilo, plans to cut and haul eucalyptus from Pāhala and elsewhere to fuel its operation.
       According to Life of the Land, its appeal is the first challenge by a PUC docket participant regarding climate change and greenhouse gas emissions in Hawai'i. Life of the Land is represented by Maui attorney Lance D. Collins.
Eucalyptus harvests above Pāhala may be delayed with a
lawsuit over a biofuel electric plant in North Hilo.
Photo by Julia Neal
    The PUC granted Life of the Land participant status in this case, citing its extensive research and understanding of energy and environmental issues. "It is critical that state regulatory agencies consider climate change," asserted Henry Curtis, Executive Director of Life of the Land. "And, the PUC is specifically required by law to do so."
      Curtis asserted that since 2011, the PUC has been expressly mandated by state law (Act 109 SLH 2011) to consider greenhouse gas emissions in their decision-making but has continued to totally disregard its duties under the law.
         "Life of the Land believes that the total lack of any analysis let alone any mention of greenhouse gas emissions in the final decision of the Commission was grave error compounded by the PUC's categorical dismissal of Life of the Land's attempts to raise these issues. Life of the Land is asking that the Hawai'i Supreme Court vacate the PUC's decision and direct it to properly consider all issues required by law," said a statement released today by the organization.
       "This failure is even more troubling in light of more recent enactment of Act 32 (SLH 2017)," Life of the Land contends. Act 32 states: "The legislature finds that not only is climate change real, but it is the overriding challenge of the 21st century and one of the priority issues of the senate.  Climate change poses immediate and long-term threats to the State's economy, sustainability, security, and way of life."
       Life of the Land is  "Hawai'i
ʻ
s own energy and environmental group working to protect the people and the 'āina since 1970. Our mission is to preserve and protect the life of the land through research, education, advocacy, and when necessary, litigation," says the statement.
To read comments, add your own, and like this story, see 
Facebook
. Follow us on 
Instagram
 and 
Twitter
.
A NATIVE HAWAIIAN BUSINESS SUMMIT featured Congresswoman Tulsi Gabbard this week during her trip back to the Island and her recess from Congress. Sponsored by the Hawaiian Organizations Association, the event is in its third year and focuses on legislative, legal and business issues relevant to small businesses in the federal contracting industry. It connects Native Hawaiian Organizations (NHOs), 8(a) certified companies, and other locally-owned businesses with Department of Defense (DoD) contracting officers and government representatives. Emphasizing the conference theme of
Kākou
, Gabbard reiterated support for Native Hawaiian housing, education, and healthcare programs. She said they help thousands of families in need each year, and discussed opportunities and challenges for the Native Hawaiian community under the changing political climate.
Congresswoman Tulsi Gabbard addressed the Native Hawaiian
Business Summit this week. Photo from Office of Tulsi Gabbard
     Gabbard also met with Kamehameha Schools' leadership and the Native Hawaiian Legislative Hui - a group of organizations that includes Department of Native Hawaiian Homelands, Council for Native Hawaiian Advancement, Office of Hawaiian Affairs, Native Hawaiian Education Council, Papa Ola Lōkahi, and others. 
    Gabbard said she discussed legislative proposals to empower and support Native Hawaiian communities across the state, and opportunities to support the hui's work at the federal level. 
     The congresswoman provided updates on key agriculture initiatives in Congress, including the 2018 Farm Bill, said a statement from her office.
To read comments, add your own, and like this story, see 
Facebook
. Follow us on 
Instagram
 and 
Twitter
.
TODAY IS WOMEN'S EQUALITY DAY,  marking the anniversary of the certification of the 19th Amendment and securing the right to vote for women. U.S. Rep. Colleen Hamabusa issued a statement, saying: "While we honor the generations of advocates who fought tirelessly for a woman's right to vote, we must recognize that women have a long way to go to reach full equality.
This year, I was honored to be a co-sponsor of the Voter Empowerment Act which would protect voting rights and preserve our electoral system ensuring equal access to the ballot box for all Americans. I know I would not be where I am if it was not for those who came before me, and I will continue to support equal pay, voting rights, and health care."
To read comments, add your own, and like this story, see
Facebook
. Follow us on
Instagram
and
Twitter
.
USGS HAWAI'I VOLCANO OBSERVATORY "has a long tradition of innovation when it comes to the tools that we use to monitor the status and activity of volcanoes. Since HVO's inception in 1912, observatory staff have developed techniques and manufactured instruments that have been used worldwide for volcano monitoring," reports HVO scientists in this week's Volcano Watch:
     The tradition continues to this day, with HVO continually adapting and creating equipment and methods in response to changing conditions and to take advantage of new technologies. For example, a recent equipment installation challenge was met with enthusiasm as an opportunity to design and implement new tools.
     The challenge was presented by a malfunctioning tiltmeter in a deep borehole on the west flank of Mauna Loa Volcano. The tiltmeter, which was originally installed 17 years ago, had a long and fruitful career before giving up. But HVO scientists were not ready to let go of the data it provided, especially considering how restless Mauna Loa has been over the last few years.
     This particular installation is part of a network of several deep sites on Mauna Loa that include seismometers, tiltmeters and strainmeters. These extremely sensitive instruments are housed in boreholes more than 15 m (50 ft) deep to help isolate them from the effects of temperature, rainfall, and atmospheric pressure fluctuations, all of which can cause spurious signals.
Strainmeter installation on Mauna Kea.
Photo from USGS
     The tiltmeter itself is a metal tube, 1 m (3 ft) long and 5 cm (2 in) in diameter, which contains precision electrolytic sensors that detect tiny tilt variations in two perpendicular directions. It can measure tilts smaller than 1 microradian, which is about the same as the slope created by putting a dime under one end of a board that is 1 km (more than half a mile) long.
     Now imagine lowering that tube about 15 m (50 ft) into a 10 cm (4 in) diameter hole that also has a bunch of cables (from the strainmeter, seismometer, and old tiltmeter) snaking up through it. The scientists also have to position the tiltmeter so that it stays upright and doesn't rest on any of those cables or the sides of the hole while pouring sand to keep it in place.
     But the challenge continues. Now add the requirement to orient the tiltmeter so that its sensors are aligned to north-south and east-west directions, or at least know the exact direction to which those sensors are pointing. This calls for some rather heroic feats of engineering.
     The solution by HVO's technical crew was to use computer assisted drawing (CAD) software to design a specialized jig that sits around the tiltmeter and gently channels all the cables out of the way while the instrument is lowered into the borehole. The jig was manufactured using a 3-D printer, which put down layer after layer of thermoplastic to build a solid object with customized specifications.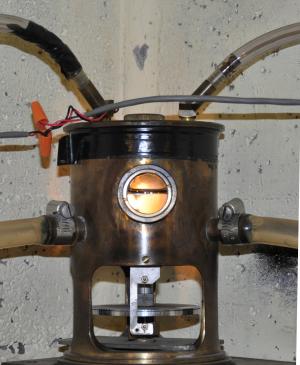 Water-tube tiltmeter installed in 1956 in an
underground vault near Kilauea's summit.
Photo from USGS
  Another specially built apparatus holds the jig, the tiltmeter, a light, and a video camera that provides a real-time view of the tiltmeter's descent as it is lowered into the borehole and positioned at the bottom.
     The scientists report that the installation was successful, and the new tiltmeter is now faithfully recording ground tilt on the west flank of Mauna Loa. These data are sent back to the observatory via radio links so that HVO receives them in less than a minute.
     HVO scientists say they hope that this tiltmeter will help provide the earliest possible warning of rapid magma movement toward the surface, which would signal an impending Mauna Loa eruption.
    They also hope that these data will help them understand the processes and conditions that lead to eruptions so that we can continue to advance the field of eruption forecasting. Whatever the outcome, the innovation of HVO's technicians will continue to be valuable well into the future, both in Hawai'i and abroad.
REGISTER KEIKI, grades K-8, until August 29, to make a beaded key chain on Wednesday, August 30, from 3:30 p.m. to 5 p.m. at Pāhala Community Center. Call 928-3102 for more.
NATURE & CULTURE: AN UNSEVERABLE RELATIONSHIP, a moderate hike approximately 2 miles takes place Sunday, August 27, from 9:30 a.m. to 11:30 a.m. at Kahuku Unit of Hawai'i Volcanoes National Park. Palm Trail hikers visit a place where catastrophic change (hulihia) and subsequent restoration (kulia) can be observed as the land transitions from the 1868 lava flow with its pioneer plants to deeper soil with more diverse and older flora. Learn about native plants that play a vital role in Hawaiian culture. Free. Visit 
nps.gov/havo
 for more.
HOVE ROAD MAINTENANCE BOARD OF DIRECTORS meet at 10 a.m. on Tuesday, August 29, at St. Jude's Episcopal Church. For more details call 929-9910.
KA'Ū FOOD PANTRY, a non-profit organization that aims to provide each family in need with three days of food, will be handing out food again on Tuesday, August 29, from 11:30 a.m. to 1 p.m. at St. Jude's Episcopal Church in Ocean View. Most of the food comes from Food Basket of Hawai'i, Inc. in Kona. Ka'ū Food Basket pays them a small handling fee for the food they provide.
AN EVENING WITH JOHN DAWSON is free to attend on Thursday, August 31, at 7 p.m. in the Volcano Art Center. Donations accepted. For more details call 967-8222. 
     Live Long and Prosper Mighty 'Ōhi'a a collection of paintings and illustrations that focus on the highly variable display of 'ōhi'a lehua trees found within the park is currently available for viewing daily from 9 a.m. to 5 p.m. through October 8, at Volcano Art Center Gallery in Hawai'i Volcanoes National Park. Gallery viewings are free, though park entrance fees apply.
Pick up the August edition of 
The Ka`u Calendar 
delivered
free to 5,500 mailboxes throughout Ka`u, from Miloli`i 
through Volcano. Also available on stands throughout
the district. See it online at 
www.kaucalendar.com